An RPS Implementation Strategy (RPSIS) has been developed to provide for the systematic implementation of all operative policies and methods during its 10 - 15 year lifetime. 
The RPSIS recognises for the RPS to be effective, it requires consistent implementation and monitoring of its policy and method requirements. A summary of the RPSIS can be viewed here.
The primary focus of the RPSIS is ensuring all policies and methods are implemented. Local authorities are required to develop plan changes and other projects required to implement the RPS. A range of methods will be used to implement the RPS. Methods include directive (statutory) and guiding (non-statutory) approaches shown on the following diagram.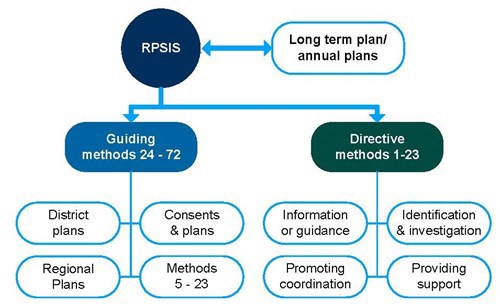 The Regional Policy Statement contains 103 policies and 72 methods of implementation across 11 resource topics addressing the significant resource management issues for the region (e.g. air and water quality). Detailed implementation work streams will be prepared for each resource topic setting out how implementation will occur and be monitored over time. It will identify key actions, timeframes, responsibilities and any resourcing gaps.   
Success in implementing the Regional Policy Statement relies on collaboration with the region's territorial authorities, iwi and key stakeholders. It includes undertaking a biennial iwi perception survey.
Current implementation work streams: