We're working together with landowners, iwi and the Rangitāiki River Forum to protect and improve water quality in the Rangitāiki River and the Pouarua, Otamatea and Mangatiti catchments that drain into it; so that local people and wildlife can thrive and enjoy healthy waterways for generations to come.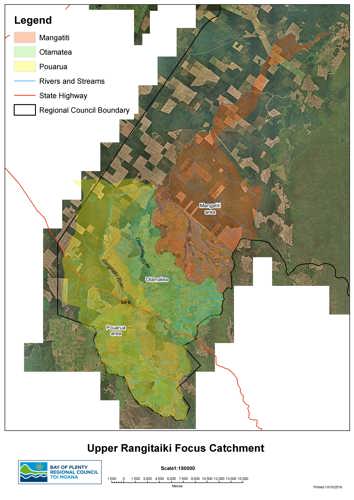 The Upper Rangitāiki catchment begins with the headwaters of the Rangitāiki River, 42 kilometres east of Taupō.
It includes the Otamatea River, Otangimoana and Mangatiti Streams, and extends more than sixty kilometres downriver to where the Wheao River meets the Rangitāiki in the Kāingaroa forest.
For many hapū and iwi who belong to the Rangitāiki River, it is regarded as a tipuna (ancestor) and a giver of life that sustains the mauri (life force) of all within its embrace. 
Free-draining pumice is the dominant soil type in the catchment. This soil type is very vulnerable to erosion and allows nutrients or contaminants from land to drain through it quickly, into waterways.
Frost flats at the top of the catchment are a rare land-based habitat type found only in the Central Plateau, and most of them (77 percent) are in the Upper Rangitāiki catchment area.
These special natural areas support a unique range of rare native mosses, lichens and low shrubs; including some that are more than 100 years old.