We're working together with locals to improve water quality in the Kopuaroa Stream and the Kaituna River and Te Awa o Ngātoroirangi / Maketu Estuary that it drains into.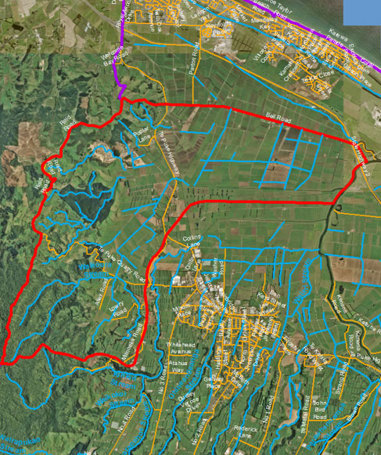 Water sampling and science work we've completed in recent years has found that current levels of nitrogen (N), phosphorous (P), sediment, and E. coli bacteria are compromising the health and wellbeing of the Kopuaroa Stream, downstream waterways, and the wildlife and people they sustain.
The Kopuaroa Stream is a small tributary of the Kaituna River. Its catchment spans an area (outlined red in the map below) between the foothills of the Ōtawa ranges, Te Rae o Pāpāmoa Hills Regional Park, and Te Puke. The map below shows the Kopuaroa catchment area outlined in red.
The now–drained plains of the lower catchment were once part of a vast 6,000 hectare wetland taonga (treasure), that was prized by tangata whenua for the tūna (eels), flax and kahikatea forests that lived there.
At unnaturally high levels, nutrients such as N and P can promote excess algae growth in waterways; depleting oxygen levels and degrading wildlife habitat. High levels of E.coli bacteria in waterways can make people sick if they swim in or gather kai from the water.