With the help of a new rainwater tank, Oropi School will be able to keep their fruit and vege plants hydrated – even with no one around.

The rural primary school was a recipient of Bay of Plenty Regional Council's School Sustainability and Resilience Fund which has allowed them to install a 1600-litre rainwater tank so they can water their gardens over the summer months, even out of school hours and through the school holidays.

The School Sustainability and Resilience Fund supports schools and early childhood education centres to carry out sustainability projects and prepare for the impacts of climate change and natural hazards.

This year's fund is still open for applications for schools and early childhood centres to apply for their share of $35,000.

Oropi School runs a garden to table program where the students learn to grow their own food, harvest it, and then use it to cook meals together. But they have never been able to plant in their garden green house because of the lack of water supply to it – until now. 

Oropi School principal Andrew King said support from the fund enabled them to install the rainwater tank in December which helped to alleviate water issues across the summer months.

The new tank meant an irrigation system could be set up, with the green house being self sufficient and there was no risk of draining the school's boar.

Mr King said the garden to table sessions were invaluable for school learners today.

"In the 90s there was a big push for pupils to be using computers and learn that technology. 

"Today, our children need to get back in touch with nature and the environment, with hands on learning - these sessions foster that.

"Learning about the needs of the modern world and how to connect to the land because more and more children are living on smaller sections and don't have the opportunities or space at home."

Oropi School children have made vegetarian chilli, herb flat bread, corn and cucumber salad and lemon honey muffins through the garden to kai program this summer.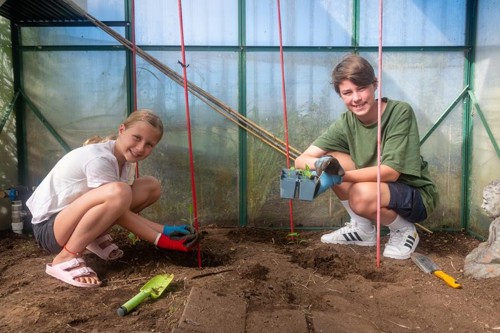 Emma, 11 and Micaiah, 12, planting capsicums in the green house. They will now be able to water the seedlings with their new 1600 litre water tank. Photo/Bay of Plenty Regional Council.


Toi Moana's School Sustainability and Resilience Fund 2023 applications close Friday, March 31.  For more information on the fund and application forms please visit: www.boprc.govt.nz/sustainability-resilience-fund.

Once applications are received, the community then votes for projects they love – it is these projects that then get the funding. So please get behind your community and others in our rohe when the voting opens.