Toi Moana Bay of Plenty Regional Council has completed its third annual audit of its carbon emissions. Toi Moana started measuring their carbon emissions in 2019 and have managed to reduce that overall figure by 8%. 
Customer Contact Manager, Rebecca Immink, says the council embarked on this journey to get clear baseline data on emissions, set emission reduction targets and take conscious steps to reduce emissions each year.
"As a council, we're working towards the national target of net zero emissions of all greenhouse gases by 2050. To help us tackle this goal, we're aiming to reduce our overall emissions by 5% per year, compared to the previous year.
"Each year we take stock of emissions across the organisation, looking at both direct emissions controlled by the council (like petrol and diesel used by staff) as well as indirect emissions like air travel. Since measuring our emissions, we have been able to put in place strategies to manage, reduce and offset impacts.
Rebecca goes onto explain that recent efforts to reduce carbon emissions have been impacted by flood pumps deployed during a number of heavy rain events.
"This audit we were hoping to have reduced our overall emissions by 15% compared to 2019 levels when we started. Until last year's heavy rain, we were on track to beat this by 19%. Instead, we've finished the year on 8%, which highlights some of the challenges that climate change is throwing our way.
"Overall, it's great to see our efforts to reduce emissions working. We are committed to this work and will continue to electrify our fleet as they come up for renewal, work towards no diesel small passenger vehicles by 2025 and reduce the minimal air travel we use further. At the same time, this event has highlighted there is plenty more to be done; including potentially upgrading drainage and flood pumps, so they are less reliant on diesel."
Rivers and Drainage Operations Manager, Daniel Batten, says the pumps are vital assets that help reduce risks from flooding to people and property.
"This year has been particularly extraordinary for repeat rainfall events and elevated river levels. While most pump stations that we manage are powered by electricity, the fleet of mobile pumps that are used for flood pumping are powered by diesel. The repeat rainfall events have needed extraordinary mobile flood pumping and consequently diesel consumption has been much higher than normal." he says.
END
For further media information, please contact media@boprc.govt.nz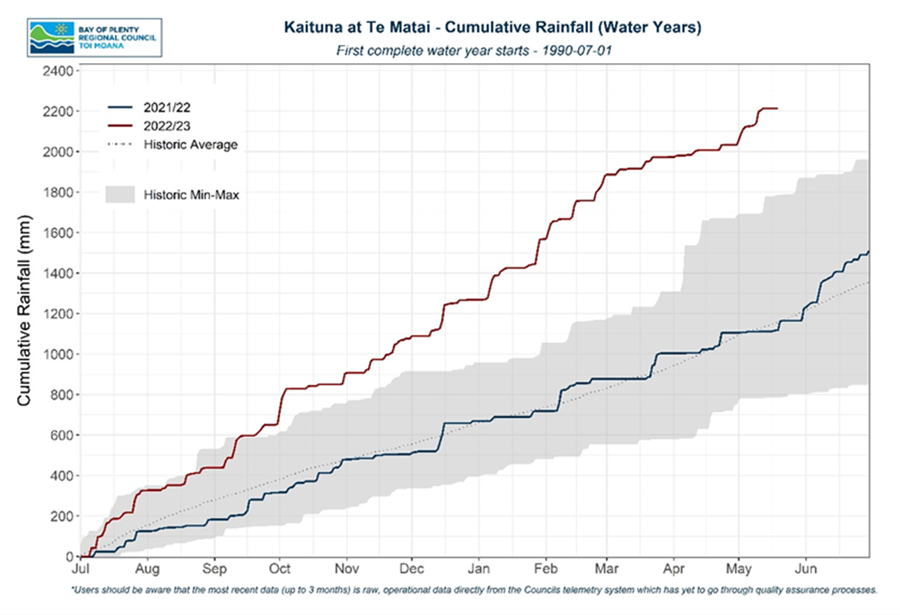 Cumulative rainfall for the Kaituna River (recorded at Te Matai Road). The top line (red) indicates the data for the 2022/23 period compared with the 2021/22 period (blue). The dotted line indicates the historic average.  
Below: Temporary pumps being deployed to drain farmland.