Project Future Proof is a staged project to upgrade flood protection, such as stopbanks and floodwalls, along the Whakatāne town centre stretches of the Whakatāne River / Ōhinemataroa.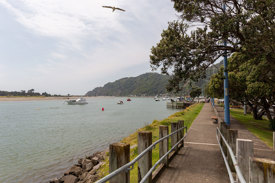 In April 2017, the Whakatāne District experienced widespread damage to homes, property, businesses, the natural environment and infrastructure as a result of the events generated by ex-Tropical Cyclones Debbie and Cook.
Using data gathered during that time, as well as what we know now about the changing climate, we need to upgrade the flood defences on the lower Whakatāne river, to help protect those who live, work and play in this part of the rohe.
As the climate changes, communities across New Zealand are adapting to meet the challenges of a rising sea level and more frequent, more significant rain events that may cause flooding.
Flood protection is the first line of defence when it comes to reducing the impact of significant flooding, which is why we now have more than $442M of flood protection assets across the rohe.
Find out more about our flood protection efforts across the rohe.