The Long Term Plan sets our direction as a council and establishes the work we will deliver to the community over the next 10 years, as well as setting out how that work will be funded, such as the setting of rates. It also acts as the Council's Annual Plan 2021/22.
Regional Councils have slightly different functions to those performed by city and district councils.
We have a strong focus on the environment, and deliver a range of services to achieve our four Community Outcomes.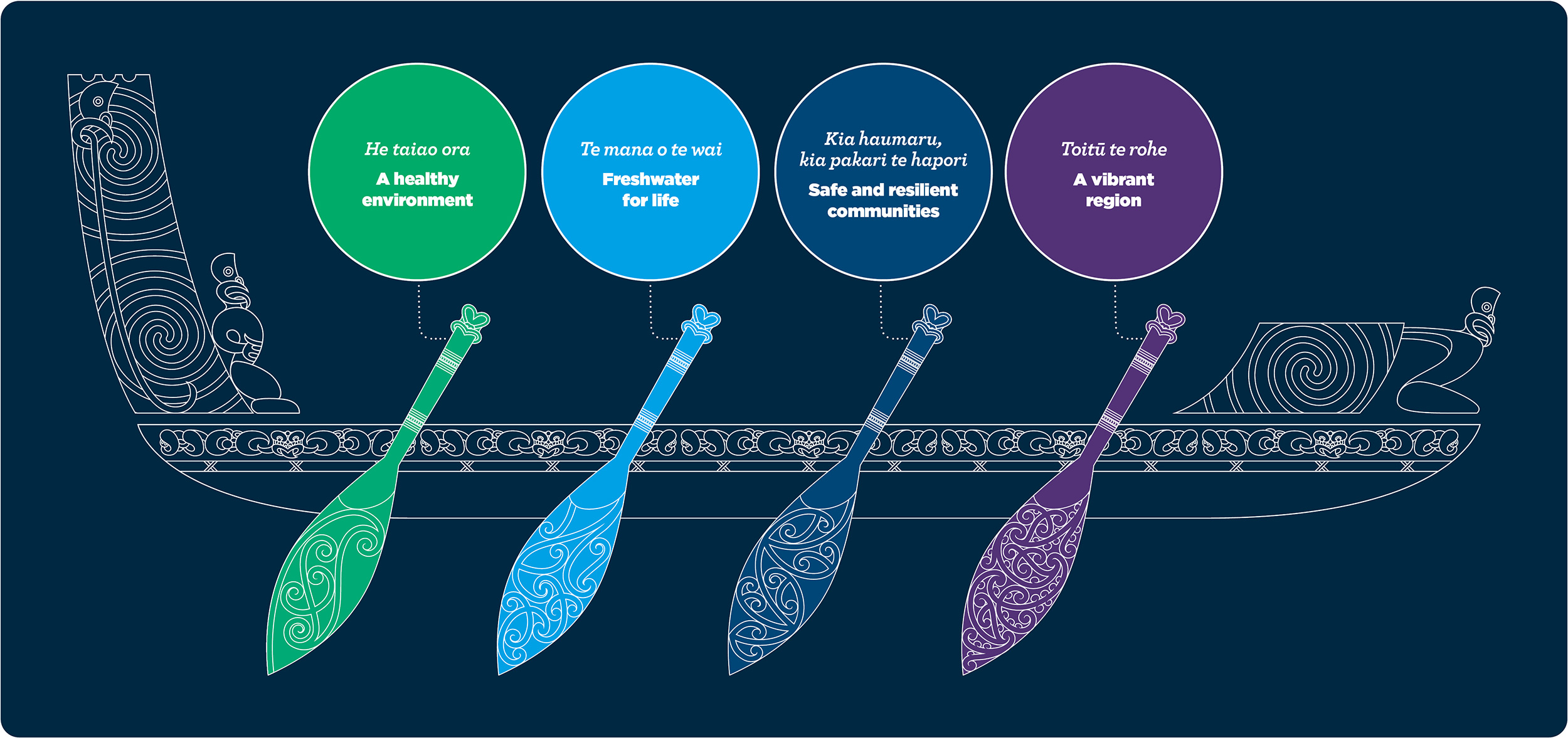 Through our Resource Regulation and Monitoring activities, we make decisions on resource consents to ensure people are carrying out activities in accordance with key environmental standards, and then monitor their compliance with those consents. We help monitor air quality as well as our geothermal systems.
Through our Catchment Management activities, we protect native biodiversity, biosecurity – controlling plant and animal pests.
Through our Catchment Management activities, we maintain and improve water outcomes in rivers, lakes, and streams, primarily through working with landowners on more sustainable land use.
Our Support Services provide technical advice and analysis, which includes publishing data and information so the public are more knowledgeable about their environment.
Our Democracy, Engagement, and Planning activities help set key environmental rules managing freshwater, with a focus on implementing the new national statements on freshwater management.
Through our Flood Protection and Control, and Regional Flood Risk Co-ordination activities, we monitor rivers during heavy rain events and provide warnings. We manage a number of defences against flooding, which include things like stopbanks, pump stations and spillways. They help us adapt to some of the more significant effects of climate change. We are also responsible for a bylaw that aims to stop people damaging those defences.
Through our Emergency Management activity, we help administer and co-ordinate a range of civil defence services with key partners.
Through our Resource Regulation and Monitoring activities, we provide education on, and enforce, key water-related safety laws, such as wearing lifejackets or keeping to a safe speed. We maintain navigation aids so that vessels can get where they need to go, safely.
Our Transportation and Urban Planning activities run bus services in Tauranga, Whakatāne, Rotorua and rural areas, and also work with other groups, such as city and district councils and central government, to help develop urban areas and necessary transport networks. Good public transport and well planned travel routes help reduce the negative effects of climate change.
Through our Democracy, Engagement, and Planning Activities, we work with our diverse communities to ensure their voices are heard, and that the democratic process is maintained.
Our Catchments Management activities manage regional parks, where members of the public can appreciate our natural environmental heritage.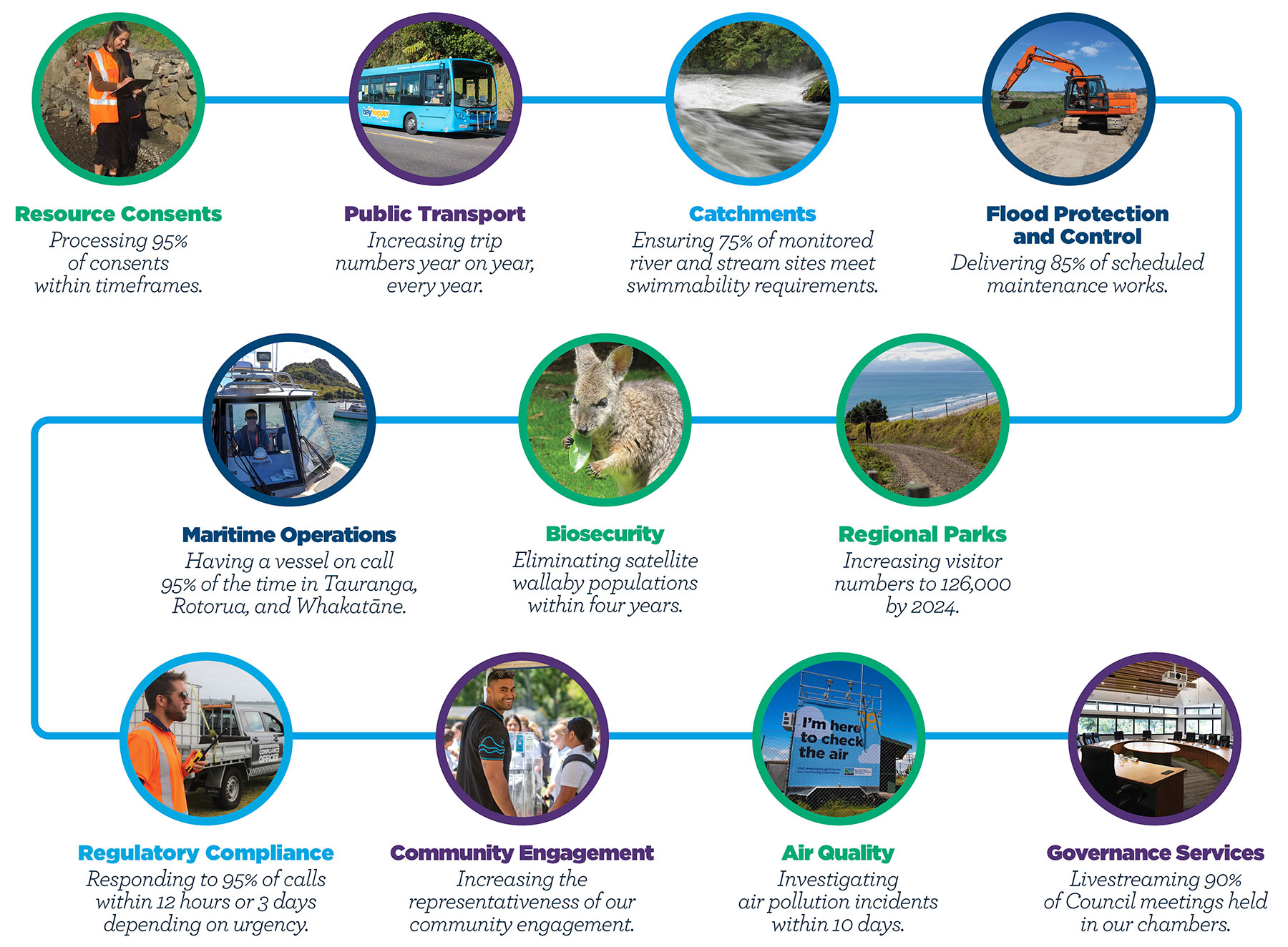 Impact Areas
In this plan we've identified three key areas where we're looking to make the most impact with our community, with the resources we have, and within the role we're tasked to do by Central Government.  
These are:
Partnerships with Māori

Climate Change, and

Community Participation and Constructive Relationships.
Find out more about these Impact Areas.
Key decisions

Implementing a one-year trial of free bus fares for school children in Tauranga, at any time or day, fully-funding revenue shortfalls using targeted rates.
Implementing one-year trials of free bus fares for school children in Rotorua and Whakātane, at arrival and departure times, fully funding revenue shortfalls using targeted rates.
Implementing permanent free bus fares for tertiary students, subject to confirmation of co-funding from tertiary providers.
Not implementing free fares for Community Services Card holders, preferring to wait until the completion of a full regional fare review.
Not implementing flat fares for public transport, preferring to wait until the completion of a full regional fare review.
Allocating additional funds for public transport.

Allocating increased capital funds for flood protection works, including Rangitāiki River floodwalls and the Ford Road pump station.

Allocating funds for a series of small-scale climate change initiatives.
Implementing a scheme to subsidise the installation of sustainability initiatives in private households.

Increasing dedicated funding for community engagement, with a specific focus on youth.

Implementing a regional funding mechanism for safety and rescue services, with the first funding round in the second half of calendar year 2021.
Allocating funds for enhanced regulation of the Motiti exclusion area and maritime activities in the eastern Bay of Plenty.
Providing a grant to the Rotorua Museum / Te Whare Taonga o Te Arawa of $4.1 million.
Te Pourepo o Kaituna wetland creation project
Wetlands play a vital role in our approach to climate change adaptation. They both capture and storing carbon greenhouse gases and they also provide resilience to hazards such as flooding, storm surge and coastal inundation.
Our rates story
Did you know that Bay of Plenty Regional Council rates differ from city and district council rates? Find out more the work we do across our rohe.
Protecting biodiversity
See how landowners and community groups are working to adopt land management practices that futureproof their land and livelihoods. Their work is also protecting and enhancing waterways and other natural areas.
Volunteers
Bay of Plenty Regional Council works with the community to protect our water, soils and our wildlife, and to manage or get rid of pest plants and animals.