At Toi Moana Bay of Plenty Regional Council we are proud to have helped pave a way for strengthened Māori representation in local government in Aotearoa. We were the first local government organisation to introduce Māori constituencies in 2004.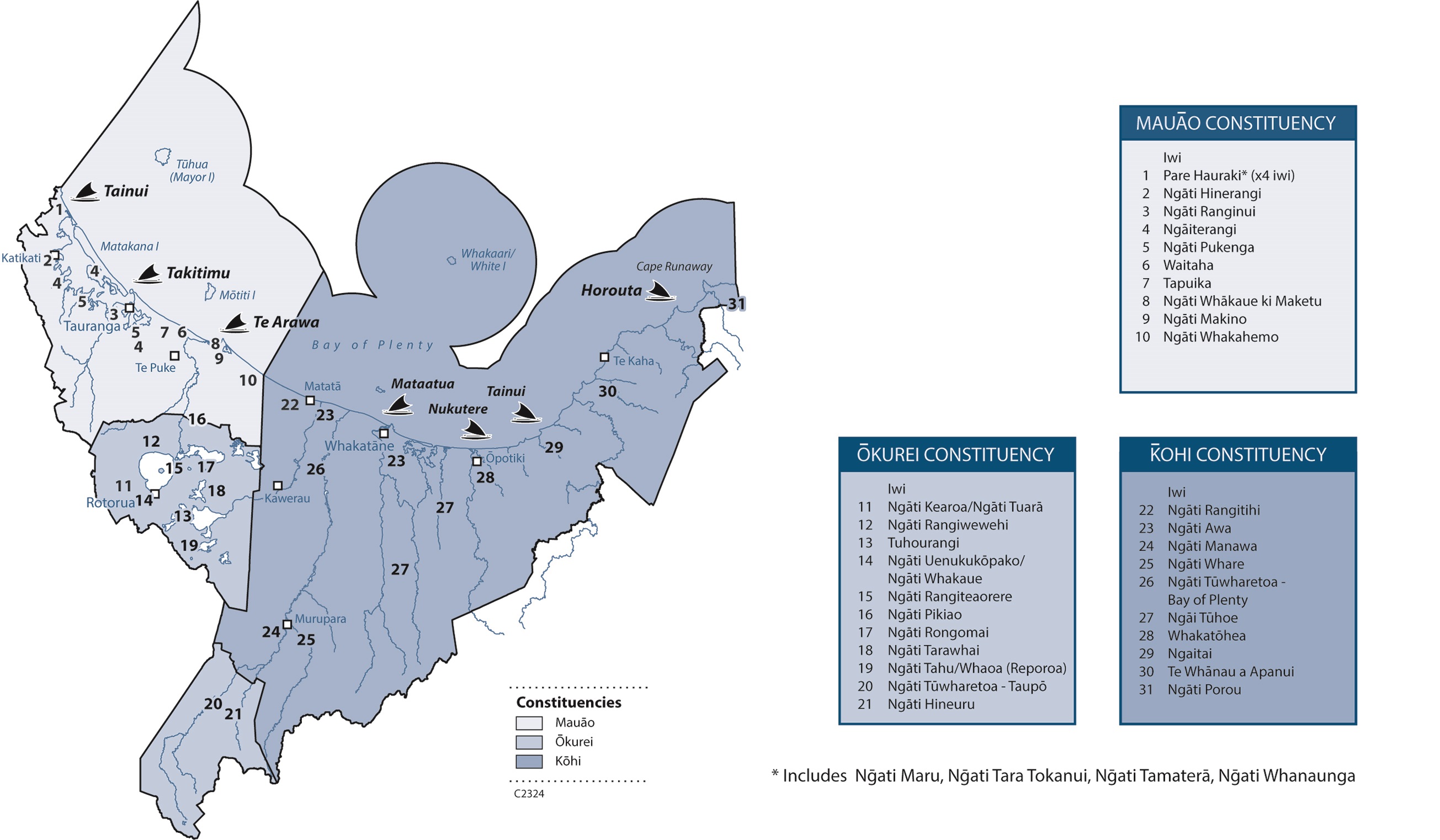 We support the significant number of Councils across Aotearoa that have resolved to establish Maori wards, which enable Māori seats/constituencies to be enacted at the 2022 Local Body elections. This change aligns with government reforms to augment Maori participation in regulatory/policy directives.
Te Moana-a-Toi (Bay of Plenty) has a rich and dynamic cultural context that is made up of multiple hapū/iwi entities and marae.  There is a significant number of Māori land holdings which contribute to the region's economy.  Working effectively with Māori to deliver outcomes for the region is one of Regional Council's strategic priorities.  Toi Moana is committed to maintaining and building enduring relationships with Māori.
The first Council to introduce Māori Constituencies
Toi Moana has three Māori constituencies, Mauao, Ōkurei, and Kōhī, which were named after significant Māori geographical land marks in each constituency. 
In December 1996, Bay of Plenty Regional Council's Māori Regional Representation Committee (MRRC) proposed that Council establish Māori seats similar to the Māori seats in Parliament.  The drive for Māori representation was led by the late Maureen Waaka, who led a formidable campaign which was supported by Iwi leaders.
In 2001, the Bay of Plenty Regional Council (Māori Constituency Empowering) Act 2001 was enacted. This gave Toi Moana the ability to establish Māori wards in a unique manner.
The Council is only required to consider tribal areas in setting Māori constituency boundaries. The Council took the advice of Māori in developing those boundaries, and did as much as it could; the legislation does not specifically provide for a comfortable fit with iwi boundaries and consequently iwi representation.
Māori wards became operational in 2004.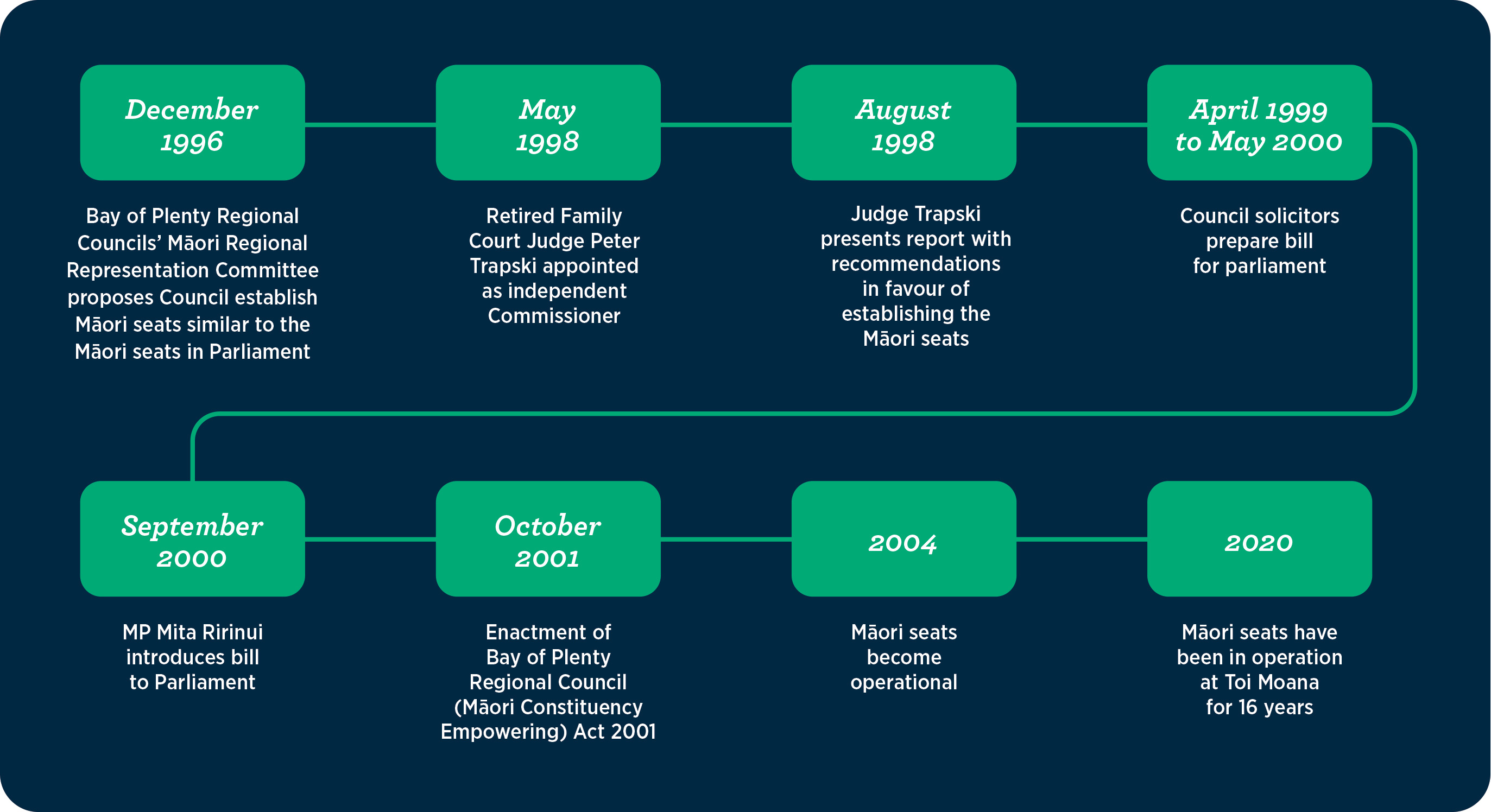 Benefits of Māori Constituencies (Wards)
Local government organisations are delegated responsibility from central government and are expected to uphold the governing principles and responsibilities of the Crown. This includes responsibilities to Te Tiriti o Waitangi, which is referenced in important local government legislation, including section four of the Local Government Act 2002.
The provision of Māori seats enables Māori perspectives and cultural values, as an integral part of the local landscape, to be fairly represented and understood at the decision-making table, which benefits the entire community.
Māori wards and constituencies are one avenue through which councils can uphold Te Tiriti o Waitangi obligations and other statutory obligations to include Māori in decision-making. Only people registered on the Māori roll can vote for candidates standing for designated Māori seats/constituencies.
Māori Councillors bring with them a te ao Māori lens, unique skills and experiences and a network of relationships with Māori across the region. Deliberations on key local government functions and policies, annual and long-term planning, budgets and strategies improve Māori discernibility through the involvement of Māori councillors.
Komiti Māori
Komiti Māori is a full committee of Council empowered to make recommendations and decisions to ensure Council's responsiveness to Māori and compliance with obligations to Māori. Meetings are held on marae across the rohe to acknowledge the cultural significance of marae and providing opportunities to contribute directly to decison-making processes. 
Meetings are Chaired by Māori Constituency Councillors as they rotate around the region. Komiti Māori is highly regarded for the purpose it serves and has been looked to by a number of other councils seeking to achieve the same.
He ingoa Māori, ko Toi Moana
The name Toi Moana is an abridged form of Te Moana-a-Toitehuatahi, the Māori name for the Bay of Plenty region. Toi Moana was officially endorsed by Council on 28 August 2014 and was trademarked in 2020.
This abridged form was not in common usage and was largely unused prior to Regional Council's adoption and use. It is in this way quite distinct and uniquely associated with Regional Council, in relation to the services we provide.
Acknowledgements
We acknowledge the extraordinary foresight of those who helped us to be the first in the country to introduce Māori Wards.
Enquiries
For more information, media or interview queries please contact media@boprc.govt.nz.