Dama wallabies were first released near Lake Ōkāreka in 1912. Since then they have been steadily expanding their distribution. It is estimated that if no control work is undertaken, a third of the North Island could be impacted by the spread of wallabies within 50 years.
Why wallabies are an issue
Wallabies have a huge appetite for many of our native seedlings, shrubs, ferns and grasses which prevents their regeneration, changing the structure of our forests and reducing their ability to support our native birds and other wildlife.
Wallabies love pasture grasses, which means they compete with livestock for food.
As wallabies are nocturnal and cautious, they can be hard to find.
The Bennett's wallaby, found in South Canterbury and spreading into Otago, is also threatening native ecosystems, farms and forests.
If both species are not controlled, wallabies could spread across one third of both the North Island and South Islands over the next 50 years and could New Zealanders $84 million a year by 2025 (includes lost farm production and ecosystem services).
In 2020 as part of the 'Jobs for Nature' funding, $27m was allocated over a four year period to control wallabies in New Zealand. This control is for Bennett's wallabies in the South Island and dama wallabies in the North Island. Administered by Biosecurity NZ (MPI), the four year funding will be delivered through partnerships with regional councils, Department of Conservation, Iwi, landowners and the community.
Dama wallaby control strategy
The first steps in the dama wallaby control strategy is called progressive containment. Progressive containment involves stopping the further spread of wallabies by finding and eradicating all satellite populations outside the defined 'containment area', and controlling wallabies within the containment 'buffer zone'.
Once this has been achieved we will begin strategically targeting wallaby populations to reduce the size of the containment area and investigate the possibilities of eradicating wallabies from the central North Island.
The below map shows the current containment area and the buffer zone, which has been identified as the area where priority will be given.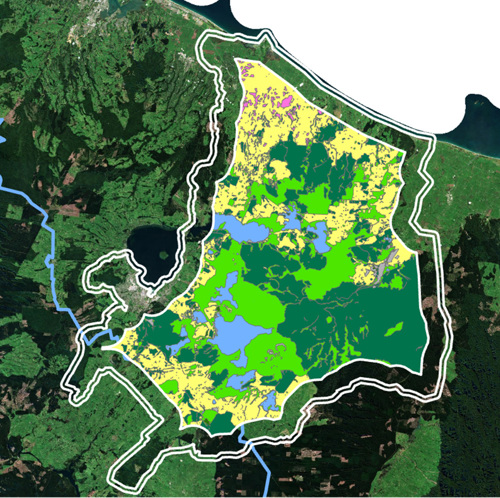 Defined containment area with 'buffer zone'.
Current operations: Dama wallaby control
Current activity in year one of the programme is focused on surveillance and control of 'satellite' populations in areas where wallabies are believed to be dispersing from. Contractors, with specially trained wallaby indicator dogs and trail cameras, are being used to locate and determine the extent of dama wallaby populations.
Where wallaby populations exist outside of the containment area, councils will work with the landowners to plan and deliver wallaby control (currently at no cost to landowners). Landowners/managers located within the containment areas are advised to contact their council Biosecurity staff for advice on wallaby control options to suit their situation.
Wallaby-proof fencing is being installed at various points around the containment area to reduce the potential 'leakage' of wallabies in areas where no natural barriers, such as rivers, exist.

Satellite populations currently under surveillance, in red, and control, in yellow.
Got a question?
If you would like to find out more about this project please contact Monica Quirke, Dama wallaby Engagement Co-ordinator by completing the form below, click 'Follow Project' on this page or email Monica.Quirke@boprc.govt.nz
Frequently asked questions
Wallabies are relatively cute looking but looks can be deceptive.
With a huge appetite for many seedlings and shrubs they can change the structure of native bush. This then impacts on native birds and animals seeking food and shelter.
Wallabies also eat grass, which means they compete with livestock for food and impact on farm production.
No. There have been cases where wallabies have been moved between different regions and as a result new satellite populations have become established. Though appealing as a joey when they mature, they need space to move around, get boisterous and are very hard to contain.
Wallabies are classified as an unwanted organism in the Biosecurity Act and moving of any live wallaby is an offence unless a specific permission has been granted by MPI. Holding or keeping a live wallaby is also a breach of regional pest management plan rules, which may result in prosecution.
Unfortunately there are currently very limited options for controlling wallabies. It's important to first establish that there are wallabies present in an area and establish potential numbers. This is done through surveillance with trail cameras and specially trained detector dogs.
The method of control differs based on a number of factors such as location, population density, land terrain and requirements of landowners. 
Currently we use shooting and toxins to remove populations however new and better ways of shooting and poisoning are currently being researched. 
Wallabies can move and disperse quickly. Reporting any sighting of a wallaby allows surveillance to be undertaken as soon as possible. This is particularly important when wallabies are identified outside of the containment zone and in areas, they should not be in.  We do not want them to invade further. 
Timely reporting will give us the best chance of finding the wallaby before it moves further.
We are investigating the use of heat-sensing drones to potentially direct hunters to single animals. The use of drones potentially could be used for bait delivery to isolated and difficult to reach areas.
We are also investigating whether some of the new toxins for possum and rat control will be effective on wallabies. Repellents which aim to stop non-target animals, such as deer, from eating toxic baits will also be trial to assess to ensure wallabies are not deterred.
Wallaby-proof fencing is currently being installed in specific areas to control the potential movement of wallabies from moving to new territory.
The single most important action that anyone in the community can do to help is to report any sightings to www.stoppests.co.nz 
Get involved
Send us any feedback, images, videos, news or other content about this project.
PROJECT CREATED
23 Apr 2021
Events
There are no events scheduled for this project.
YOU MAY ALSO BE INTERESTED IN: