Coastal hazards
Coastlines are forever changing with the tide, as wind and waves influence the shape of the shoreline. These processes can generate hazards that pose risks to property and infrastructure such as coastal erosion and inundation (flooding from the sea or harbour). Climate change is expected to increase the magnitude of coastal hazards over time as sea levels rise and cause these hazards to extend further inland.
Coastal erosion
Coastal erosion is the loss of land due to coastal processes such as wave action and nearshore currents. Erosion can occur suddenly in response to storm events, or slowly over time. This can cause instability of dunes and coastal cliffs as the base sediment erodes and is moved either offshore or along the coast.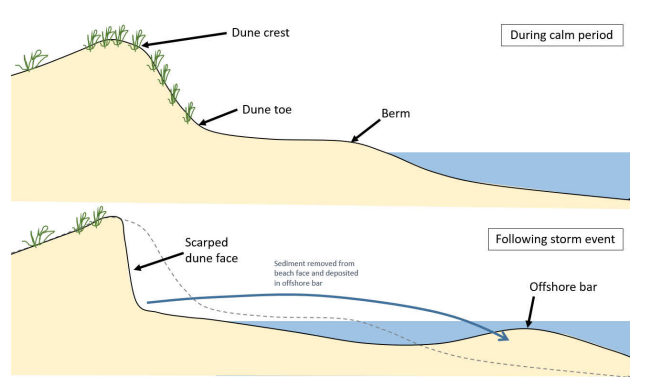 Coastal inundation
Coastal inundation (also called coastal flooding) occurs when normally dry, low-lying land is flooded by the sea.
Coastal inundation is mainly caused by severe weather events such as storms where low-pressure weather systems, large waves and strong winds combine to raise water levels.
The worst flooding occurs when larger-than-normal tides and storms occur at the same time.
Coastal hazards impacts
Erosion of dune systems
Biodiversity loss
Building damage/collapse
Damage to roads (washouts)
Damage to man-made coastal defences and structures
What does this mean for the Bay of Plenty region?
The Ministry for the Environment (MfE) has produced guidance to support councils to manage and adapt to the increased coastal hazard risks posed by climate change and sea-level rise.
Bay of Plenty Regional Council has commissioned coastal erosion assessments for Tauranga Harbour, and the Ōpōtiki, Western Bay and Whakatāne district shorelines. The assessments are based on MfE guidance and provide hazard maps and technical reports which will assist in future development planning. The Tauranga Harbour study has been completed. The Ōpōtiki, Western Bay and Whakatāne studies are expected to be completed in 2022.
A Coastal Inundation Study is also currently underway. When complete, this will provide mapping for the entire Bay of Plenty coast. This is also expected to be completed in 2022.
Where can I view these maps?
Maps for Tauranga Harbour can be found at BayHazards below. Additional coastal erosion and inundation maps for Ōpōtiki, Western Bay and Whakatāne will be available on BayHazards in 2022 once assessments are complete.