Ready for resource consent?  Resource consents are issued under the Resource Management Act 1991 and help ensure that any effect on the environment is managed sustainably.  There is a set process, with set timeframes that Councils need to follow. 
You need to apply for a resource consent if you wish to do something that is not permitted by district or regional plans. We are available to guide you through this process and provide tips on how to make it a smooth experience.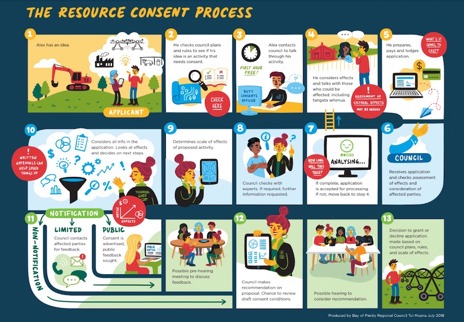 See a step-by-step diagram that guides you through the consent process, or download it here.
Working together for timely resource consents
We aim to process every consent application as efficiently as possible. There are a few things you can do to help us process yours quickly:
Talk to our Duty Planner or Consents Team before to submitting your application. They may be able to offer some advice that will save time.
For larger scale activity applications, consider having a pre-application meeting with Council staff and technical experts.
Consider hiring a consultant to prepare your application for you.
Ensure your proposal is consistent with the objectives and policies in the Regional Policy Statement and relevant Regional plans.
Include a complete assessment of the environmental and cultural effects with your application. This may involve engaging with technical experts and tāngata whenua.
Obtain written approvals from potential affected parties, including tāngata whenua. 
Let us know if you have time constraints or deadlines.

Five steps in the application process
Step 1 - Pre-application
The process for getting consent will be easier if you know how the Resource Management Act 1991 (RMA) affects your project and what you need to do to have your consent approved. Before making an application for resource consent, careful consideration needs to be given to what an application should contain. Before you start to fill out the correct application form for your activity, we recommend you:
Flesh out your idea
Look into what rules might affect your project
Talk to anyone who may be adversely affected by your proposed project or who may have an interest in the environment in general
This will save you time and money in the long run. 
Step 2 - Checking in with Council 
We offer pre-application advice for projects that need resource consent. We provide you with information and guidance to ensure you have a good understanding of what needs to be done, before you submit your application. The first hour of advice from our helpful Duty Officers is free and we encourage you to use this opportunity at your local Regional Council office. 
Meeting with us before you apply for your resource consent will:
Provide an overview of the Resource Management Act 1991
Help you understand relevant planning rules
Confirm and identify what type of consent(s) you may need
Help identify what information needs to be included in the consent application, such as environmental assessments, data analysis and cultural impacts
Explain how the process works, including potential costs and times
Identify and provide contact details for 

tāngata whenua

 who may be affected by your application
Identify other individuals or groups that may also be affected
Explain which situations determine if your application is publicly or limited notified
Pre-meeting checklist
Please consider the following before meeting with us:
Do other parties need to be part of the meeting?
Does your application involve another council?
Doing site identification including a legal description and map
Taking some site photos
Bringing along a site plan or proposed plan
Providing a description of the proposal
Carrying out some initial data analysis
When you're ready call 0800 884 881 extension 9090 or email consents.queries@boprc.govt.nz to arrange a meeting with our Duty Consents Officer.  
Step 3 – Consultation
Consultation may be required before we can make a decision on a resource consent. This could be with your neighbours, tāngata whenua, users of the same water source, or interest groups such as the Department of Conservation or Fish & Game.
Consultation will generally help smooth the processing of a resource consent application. Time spent on consultation before your application is lodged can mean considerable savings by avoiding lengthy and costly pre-hearings, hearings and appeals.
We're happy to provide guidance on who you might need to approach and give you appropriate contacts.
We go into more detail about the importance of consultation and who you might need to consult. 
Step 4 - Preparing your application
The clearer you describe in your consent application what you want to do and where you want to do it, the easier the process of lodging an application will be. There are specific application forms for each activity and you will need to use the correct form in order for it to be processed. 
The application form will ask you to:
Describe the activity
You must provide clear details of what you want to do and where. The more information you can provide, the better understanding we will have of your proposal. In particular, we require a map clearly showing the location of proposed works and a legal description of the site. If you need help supplying a site map of your property we have a few mapping tools that might come in handy.
Describe the environment
We need to know where your proposed activity is located, in relation to nearby features. For example, what is the distance to any significant environmental, historic or cultural sites?
Research plans and rules
In general, for a new consent, you will need to: 
Provide an environmental assessment
So that we can assess the likely environmental impact of your activity, your consent application must include an Assessment of Environmental Effects (AEE).  Depending on the effects, an AEE can be a short written statement or longer report.  Effects on the environment that you will need to consider can be short-term or long-term, positive or negative, and may include:
Identification of any affected parties and evidence of any consultation
Effects on the environment
Possible ways of avoiding, remedying or reducing any adverse effect identified
Possible alternatives to the proposal
Positive effects
Assessing cultural effects
Our Regional Policy Statement (RPS) is clear that it is good practice to consult with tāngata whenua in relation to your consent application. As per the policies within the RPS, consent applications that are lodged with a cultural effects assessment should have input by tāngata whenua to help identify any actual and/or potential cultural effects.
To assist you in this Council can provide a list and contact details of tāngata whenua  who have registered an interest in the site of your activity so that you can undertake the assessment. We can also provide other information e.g. access to iwi and hapū management plans, details about identified archaeological sites and details of any Statutory Acknowledgements relevant to the site.
Submitting your application
Once you feel your application is ready, please submit it with the initial payment via email, post or in person. After you have lodged your application, we will let you know within 10 working days if we need more information before proceeding to the next step.
Step 5 - Notification
When a resource consent application is received by Council, we assess its environmental effects. If the environmental effects are more than minor, the resource consent will require public notification under Section 95A of the Resource Management Act.
Only some consent applications are notified. Your application may not be notified if we are satisfied that your activity will have only minor effects on the environment and all potentially affected parties have provided written approval. Your application will be processed faster and cost less if you gain approval from all parties that may be affected by your proposal. 
There are two forms of notification, Limited Notified and (publicly or fully) Notified. 
Limited notified
Limited notification applies when the effects of your activity are considered to be generally minor, but you have not obtained written approval from potentially affected parties. We will send a letter to all potentially affected parties advising them of your application and any activities or likely effects associated with your proposal which may arise if your proposal was granted. Those identified parties can then make a submission on the proposal. If submissions and/or issues can't be resolved then the application will need to go to hearing.
Notified
Full Notification occurs when we believe the effects of your activity will be more than minor. A notice will be placed on our website, in the public notices section of the local newspaper where your proposed activity will happen and a sign will be placed at the site (or the nearest public access point to the site) of the proposed activity.
The notice and sign will say who the applicant is, what consents they have applied for and where they propose to carry out the activity
Additionally, we will send a letter to all potentially affected parties advising them directly of your application. 
At the close of submissions, the application may go to a pre-hearing meeting or a hearing to determine the application.  If no submissions are received the consent may not need a hearing and the consent can be processed and the decision issued. 
How quickly does the Council decide?
Councils need to comply with the timeframes set out in the RMA. If you've provided all the necessary information, the council should be able to make a decision on non-notified applications within one month (20 working days), a decision on notified applications within approximately six months (130 working days) and a decision on limited notified applications within approximately four and a half months (100 working days). The council will decide whether to notify your application within 20 working days of receiving it.
There might be a delay in processing your application if, for example:
You don't supply all the information we need
You need other consents for the activity, and we decide to consider all the applications as a single package
Special circumstances exist (for example, the activity is large and complex)
There's disagreement about the conditions for the resource consent
If we ask you to supply further information, the timetable for processing your application comes to a halt. Council can request additional information any number of times. However, the clock can be stopped for only the first request and only if that request is made before the council has made the decision on whether or not the application should be notified. You can help avoid delays by talking to Council staff early in the process.