To fully understand the potential effects of a proposed activity on people and the environment, cultural effects must be addressed within the Assessment of Environmental Effects (AEE) section of a resource consent application.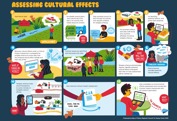 It's likely that any consent application lodged without an assessment of cultural effects will be deemed incomplete and returned to the applicant.
View a step-by-step diagram to see a summary of how cultural effects are assessed. If you're using a mobile, you might find it easier to view our mobile-friendly version of this.
Note: The term 'tangata whenua' is used throughout this section and refers to any iwi, hapū, whānau or other group who holds mana whenua over an area of interest.
The Resource Management Act 1991 (RMA) recognises the relationship tangata whenua have with their ancestral lands, water, sites of significance, waahi tapu (sacred sites), and other taonga (treasures).
The resource consent process provides a mechanism for the protection of these cultural values. It means that anyone wanting to carry out an activity that may have an effect on these values needs to consult tāngata whenua about their proposed activity, and address the potential effects within their resource consent application; specifically within the Assessment of Environmental Effects (AEE). The applicant may need to consider options to avoid, remedy or mitigate any potential effects on cultural values that are identified during the consultation process.
Assessing cultural effects can be a daunting task for both those applying for consent and the tāngata whenua that may be affected. It can be especially challenging for people that are not familiar with the RMA or that are inexperienced at articulating or assessing cultural relationships with an area or a natural resource. Please remain respectful of this throughout the process.
Applicants
After applicants have checked Regional Council's plans and policy statements for an overview of the rules and resource management issues for the Bay of Plenty they need to find out which tāngata whenua groups might potentially be affected by their proposed activity. For advice, and tāngata whenua contact details, you can contact Regional Council's Duty Consents Officer by phone on 0800 884 883 ext. 9090, or by emailing consents.queries@boprc.govt.nz.
When the relevant tāngata whenua groups have been identified it's important to check whether those groups have a hapū and iwi management plan in place, and if so read it. These planning documents describe the resource management issues of most importance to that group.
By familiarising themselves with this information first, applicants will be better prepared for their discussions with tāngata whenua about potential effects on cultural values by their proposed activity.
Understanding cultural effects is an important and valuable part of the consenting process. Take a look at some examples of the benefits applicants may get from consulting with tangata whenua.
Consultation
Although the RMA acknowledges the importance of consulting tāngata whenua as part of the resource consent process, it does not specify how this consultation should be conducted. Regardless, the best way for an applicant to learn about any potential cultural effects is to contact the relevant tāngata whenua representatives directly prior to lodging a consent applicant.
We have drafted up a flow chart to outline how the process works in the Bay of Plenty and expectations of parties participating in the process. This is our starting position and as we continue to grow our partnership with tāngata whenua there may be variations in this process within the rohe of specific iwi/hapū.
Helpful consultation hints:
Remember, engagement is fundamentally about building effective relationships. Wherever possible pick up the phone, or make contact kanohi ki te kanohi (face-to-face), rather than sending letters or emails.
If you are contacting the tāngata whenua group by phone make sure you have a copy of your proposal and application handy so you can answer any questions they may have. You may need to send copies of these documents later.
If you are contacting them by email make sure you include a copy of your draft proposal and application, highlighting key points of the activity.
Applicants should keep a written record of their communications with tāngata whenua and include it as part of the cultural effects assessment section of their consent application.
Cost of engaging with tāngata whenua
Depending on the scale of activity and potential effects, tāngata whenua may need to charge a fee for the time they spend:
considering an application,
conducting a site visit,
meeting with applicants and their experts, and/or
preparing a Cultural Impact Assessment, if one is needed.
It is important that applicants and tāngata whenua representatives discuss and agree on the proposed methodology, timing and costs for the assessment before they begin (if one is required). The hourly rate is often based on market rates for technical services.
Similar to how a tradesperson might prepare a quote, it's important that applicants ask:
how the tāngata whenua group will identify potential cultural effects
how long it's likely to take for any agreed work to be completed
what form the response will take, i.e. email, report or other.
Assessment of cultural effects
Depending on the activity and scale of potential effects, a short report summarising the effects and any proposed mitigation may be sufficient to cover off the cultural effects section of the AEE that accompanies a consent application. Alternatively applicants can do an assessment of the policies. If the cultural effects are more than minor (likely to cause a noticeable adverse impact but could be potentially mitigated or remedied) then a more detailed Cultural Impact Assessment (CIA), prepared by tāngata whenua, may be required.
A CIA is a planning tool that helps to facilitate Maori participation in the consenting process. It formalises the assessment of cultural effects and takes a thorough look at potential effects from the proposed activity on Māori cultural values, interests and associations with an area or a natural resource.
Tāngata whenua
After receiving a draft proposal and consent application, tāngata whenua should acknowledge receipt of the applicant's request to them. If the proposed activity is likely to affect cultural values, tāngata whenua will need to provide advice on how those effects can best be assessed and perhaps mitigated.
It's important both parties agree on the costs and assessment methods before proceeding with the work.
What if there's no cultural effect?
Not all activities will have an effect on cultural values. If through the initial assessment it becomes clear that the proposed activity is unlikely to negatively affect areas of cultural significance to tāngata whenua, then tāngata whenua should advise the applicant of that, in writing, as soon as possible. This advice should outline that there are no cultural effects likely and that tāngata whenua therefore have no further need to be involved or consulted on the application.
Making recommendations to avoid, remedy or mitigate cultural effects
'Avoid', 'remedy' and 'mitigate' are terms used in the RMA. While they are not defined in the RMA, they are management mechanisms that applicants must consider when they have identified that their proposed activity may generate adverse environmental or cultural effects. Significant adverse effects must be avoided, remedied or mitigated irrespective of the benefits of a proposed activity.
The AEE process works out whether an effect needs to be managed, and the best way of doing this. If through the draft proposal applicants have themselves identified potential adverse environmental or cultural effects, they should look at ways to avoid, remedy or mitigate these effects and outline those in the AEE.
If tāngata whenua can see opportunities for cultural effects to be avoided, remedied or mitigated they too can suggest ways to adjust the proposed activity or introduce consent conditions to do that.
Resource Management Act workshops for Māori kaitiaki
Our Māori Policy and Consents teams have teamed up to offer training for iwi and hapū representatives to learn more about the RMA.
A series of three workshops are available to empower tāngata whenua to participate as treaty partners in the management of our natural resources.
The training is delivered across three workshops that each take about five hours to complete. Whanau groups that would like to attend a workshop, should contact one of our Māori Policy Advisors by calling 0800 884 880 to make arrangements.
Workshops can be hosted by our Māori policy team or we can come to a group's preferred location. For us it's all about participation and whatever we can do to help make it work for iwi, hapū and whanau.