Seen a wallaby? Report it here
Wallabies were first released near Lake Ōkāreka in 1912. Since then they have been steadily expanding their distribution. It is estimated that if no control work is undertaken, a third of the North Island could be impacted by the spread of wallabies within 50 years.
Why wallabies are an issue
Wallabies have a huge appetite for many of our native seedlings, shrubs, ferns and grasses which prevents their regeneration, changing the structure of our forests and reducing their ability to support our native birds and other wildlife.
Wallabies love pasture grasses, which means they compete with livestock for food.
As wallabies are nocturnal and cautious, they can be hard to find.
The Bennett's wallaby, found in South Canterbury and spreading into Otago, is also threatening native ecosystems, farms and forests.
If wallabies are not controlled they could spread across one third of both the North Island and South Islands over the next 50 years and could New Zealanders $84 million a year by 2025 (includes lost farm production and ecosystem services).
In 2020 as part of the 'Jobs for Nature' funding, $27m was allocated over a four year period to control wallabies in New Zealand. Administered by Biosecurity NZ (MPI), the four year funding will be delivered through partnerships with regional councils, Department of Conservation, Iwi, landowners and the community.
North Island wallaby control strategy
The programme's success relies on first preventing their spread from areas where they are already established, which is known as the Containment Area.
In the North Island the Containment Area is approximately 260,000 hectares. The Containment Area's shape uses natural wallaby barriers around its boundaries such as rivers, steep gorges, and lakes, while also considering current known wallaby population densities.
Surrounding the Containment Area is the 'buffer' (shown below in yellow on the map below), where operational work aims to reduce wallaby populations, so they are less likely to move out of the Containment Area to find food and habitat.
Longer term, we can then strategically target wallaby populations inside the Containment Area and, with the help of landowners, iwi, and community groups, progressively reduce the overall size while investigating the possibilities of eradicating wallabies from the central North Island.
The below map shows the current Containment Area and the buffer zone, which has been identified as the area where priority will be given: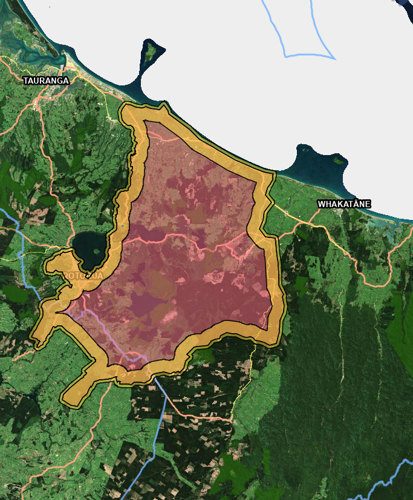 Central North Island Containment Area.
Current operations: Dama wallaby control
Current activity is focused on surveillance and control of 'satellite' populations in areas where wallabies are believed to be dispersing from. Contractors, with specially trained wallaby indicator dogs and trail cameras, are being used to locate and determine the extent of dama wallaby populations.
Where wallaby populations exist outside of the containment area, councils will work with the landowners to plan and deliver wallaby control (currently at no cost to landowners). Landowners/managers located within the containment areas are advised to contact their council Biosecurity staff for advice on wallaby control options to suit their situation.
Wallaby-proof fencing has been installed at Ōkere Falls and SH5 along the boundary of Whakawerawera forest to reduce the potential 'leakage' of wallabies in areas where no natural barriers, such as rivers, exist.
Find out more
Sign up to the dama wallaby e-panui to receive 6 monthly updates on progress being made to control wallabies in the central North Island.
Sign up now