Geothermal areas within the Bay of Plenty region are valued for their vast quantities of thermal energy, mineralised fluids, and increasingly for their economic, social, heritage and cultural values.
Geothermal activity and the extractive use of heat energy from systems across the region contribute substantially to the regional economy due to their range of uses.
Geothermal was identified by Central Government in 2015 as one of nine key areas that have the most potential to grow incomes, employment and investment in the Bay of Plenty, through its Regional Growth Programme. To find out more, see the Bay of Plenty Economic Action Plan.
The monetary value of geothermal resources to the regional economy in 2013 was estimated at $482.5 million. When direct and induced effects are included, such as support services, this equates to almost 5% of the region's GDP for that year. Geothermal resources also contributed an estimated 8,127 jobs to the region.
The graph below shows the relative contribution of different sectors of the Bay of Plenty economy that rely on geothermal resources.
In 2014 48% of all tourist visitors to the region, particularly Rotorua, came for the geothermal attractions, while 25% came for Māori culture and 24% to experience spa and wellness.
Geothermal resources have been an integral part of Māori culture for hundreds of years, with the Bay of Plenty's Te Arawa people regarding them as a taonga (treasure) and a gift from Atua (gods and spirits).
Māori have traditionally used heated waters for cooking, washing, bathing, heating, preserving, ceremonial use and healing. Rotorua was also the birthplace of tourism in New Zealand, with visitors travelling from throughout the world since the 1800s to experience the region's geothermal wonders and Māori hospitality.
The resource remains integral to Māori culture today, particularly in Rotorua, which has one of the largest and most active geothermal fields in the world. Examples of its rich heritage include the communities of Whakarewarewa Valley geothermal field – the most visited tourist attraction in New Zealand – and Ōhinemutu, and the more recent Victorian setting of Government Gardens, the Bathhouse (now the Rotorua Museum) and the Blue Baths. For more information on Māori customary use, see the book of research on the subject by the Department of Geography at the University of Waikato: The Legacy of Ngatoroirangi.
The legend of how geothermal activity came to the Bay of Plenty
The earliest legends speak of a man named Ngatoroirangi, a tohunga (priest) from Hawaiki who guided the Te Arawa waka (canoe) to New Zealand.
Anxious to explore, he travelled down the east coast from Maketū, until he reached the Tarawera River. There, he turned inland and travelled up the river to the peak of Mt Tarawera and on until he finally reached the magnificent mountains that now form the Tongariro National Park. As he neared the top of the highest peak, he was affected by an intense cold so severe, he feared he would die.
In desperation he prayed to his sisters in Hawaiki (said to be the ancestral home of all Māori before they came to New Zealand) to send fire to warm him.
His sisters heard Ngatoroirangi's prayer and called upon the fire demons to go to their brother's aid. So Te Pupu and Te Hoata plunged into the sea and swam across the Pacific Ocean.
Each time the fire demons lifted their heads into the air from deep within the earth's crust – first at Whakaari/White Island), then at Moutohorā (Whale) Island, Awakeri, Rotoehu, Rotoiti, Rotorua, Whakarewarewa, Tarawera, Orakeikorako, Taupō, and Turangi – they left a steaming, bubbling trail of thermal activity in their wake.
Like a flash of lightening the demons burst through the enormous cone of Tongariro, arriving as Ngatoroirangi lay near death.
The volcanic heat brought by the fire demons slowly revived Ngatoroirangi, spreading warmth through his veins and sending life to his muscle and bone. He named the mountain Tongariro to commemorate the cold south wind that almost killed him.
And so it is that volcanic and thermal activity came to the region.
Source: Edited from the book Te Whakarewarewa by Don Stafford.
There are many unique plants and organisms which have adapted to living in and around geothermal surface features. Some plants such as prostrate kanuka can only be found in geothermal areas and many are listed as threatened or at risk.
Geothermal surface features provide microclimates as they make the immediately surrounding area different than the wider environment. This allows plants and animals to develop and interact in unique ways.
In our region, we have a quarter of New Zealand's geothermal vegetation. Some geothermal areas have plant associations that are found nowhere else in the world. All these species are uniquely important to our genetic biodiversity.
Diverse life forms and their genetic material provides many unique opportunities for the future. An example of this is the use of bacteria that thrive at extreme temperatures being used in industrial processes.
For more information, visit the one thousand springs website which is a catalogue of the microbial biodiversity and geochemical information for geothermal features across the Bay of Plenty and the central North Island. This research is being jointly undertaken by GNS Science and the University of Waikato, with funding support from Central Government.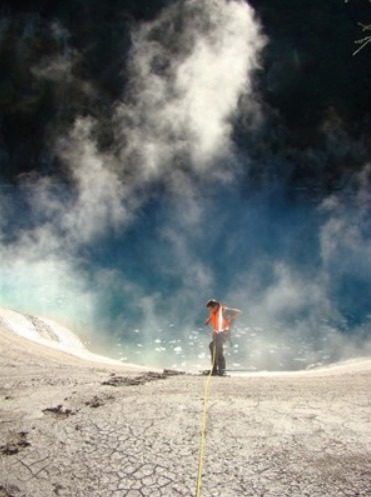 Above: Inferno Crater Lake, Waimangu Geothermal Field
Image: © GNS Science
Some of the existing and potential uses include:
Geothermal tourism associated with surface features.
Hot pools for bathing, cooking, and wellness and therapeutic health benefits.
Direct use of geothermal energy for electricity generation.
Heavy industry such as pulp and paper and solid wood processing mills.
Heating of domestic buildings and water supply, including private pools.
Heating of commercial buildings and water supply e.g. Rotorua Hospital.
Space heating and frost protection for horticulture e.g. glasshouses and hydroponics.
Land-based aquaculture.
Mineral extraction e.g. silica.
Conservation and scientific study that aids in the understanding of other resources and processes such as volcanic eruptions.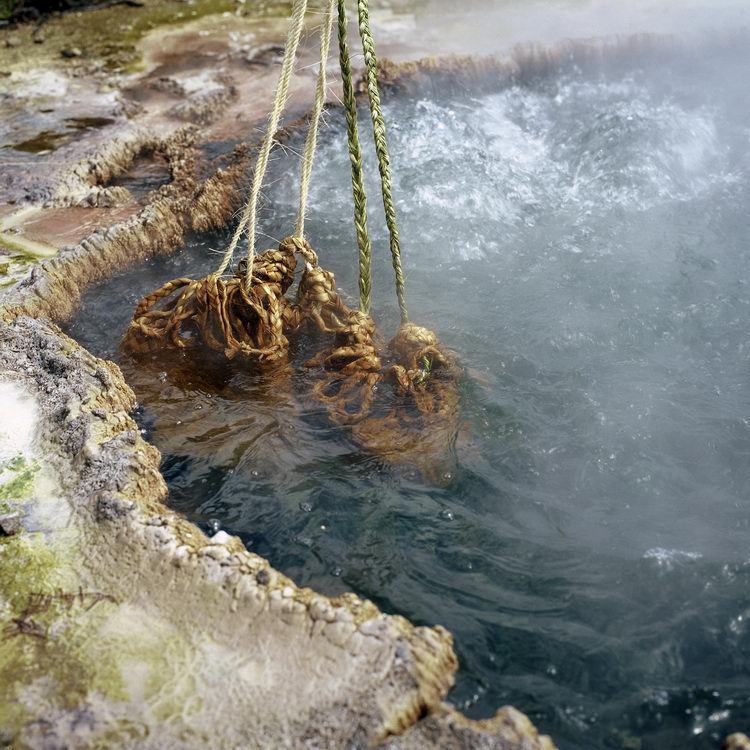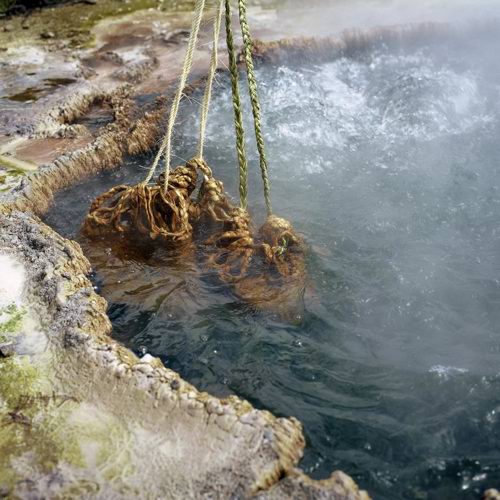 Above: Geothermal cooking pool.