Whakaari/White Island lies 50 kilometres from Whakatāne off the Bay of Plenty coastline.
It is an active cone volcano with a Group 1 protected geothermal system. The official gazetted name Whakaari/White Island is a combination of the full Māori name of Te Puia o Whakaari ("The Dramatic Volcano") and White Island given by Captain James Cook in 1769.
Use and development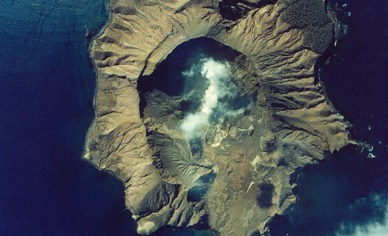 There is no evidence of long-term occupation by Māori due to its rugged terrain, lack of fresh water and continuing volcanic activity. The island is now privately owned been administered as a private scenic reserve.
Attempts were made in the mid-1880s, again from 1898 to 1901, and then from 1913 to 1914, to mine sulphur from the island. Mining came to a halt in September 1914, when part of the western crater rim collapsed, creating a debris avalanche that killed all 10 workers. In 1923, mining was again attempted, however, there was not enough sulphur in the material mined at the island and exploitation ended in the 1930s. Shallow exploration drill holes for sulphur were drilled but no detailed records survive.
Whakaari/White Island is privately owned. It was declared a private scenic reserve in 1953 and is subject to the provisions of the Reserves Act 1977. Visitors cannot land without permission. The main activities on the island included guided tours and scientific research (marine, biological, geological and chemical). Tourism has been developed on the island and by the early 2000s about 10,000 people visited the island each year with tourism operators. Touristic activities ceased following a fatal volcanic eruption on 9 December 2019.