These Bylaws provide protection from damage and misuse to flood protection and drainage infrastructure assets managed by or under the control of Regional Council.
These assets have been built to increase productivity of land, and prevent damage, danger, and distress to the community from flooding, and problems associated with a lack of drainage.  It is crucial they function properly when needed.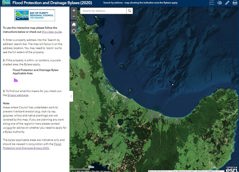 Bylaw Authority
Anyone who wants to carry out work near these flood protection and drainage infrastructure assets need to consider whether a Bylaw Authority is needed. Use our interactive map to find your property and see if it covered by these Bylaws.
What do these Bylaws apply to?
Drainage scheme drains and canals.
Defences against water such as stopbanks, flood walls, pump stations and flood gates.
Erosion protection, such as rock protection, willow and native plantings.
Floodways, spillways and ponding areas.