Historically Rotorua has had some of the worst winter-time air quality in New Zealand. The main source of air pollution in Rotorua is smoke from solid fuel burners used for home heating.
Air pollution is now recognised by the World Health Organisation (WHO) as the single biggest environmental threat to human health. The young, the elderly, and those with respiratory and cardiovascular illnesses are the most vulnerable.
Where have we got to?
As a regional council, it's our role to monitor air quality and manage air pollution. The National Environmental Standards for Air Quality (NESAQ) set out ambient air quality limits that must be achieved. Over the last 15 years a combination of regulations, funding incentives, and community awareness has meant that we have slowly but surely phased old out inefficient wood burners and improved air quality in Rotorua.
The graph below shows just how far we have come – from 36 exceedances of the NESAQ limit for PM10 in 2008 at the Edmund Road monitoring station to only one in 2020 and none in 2021: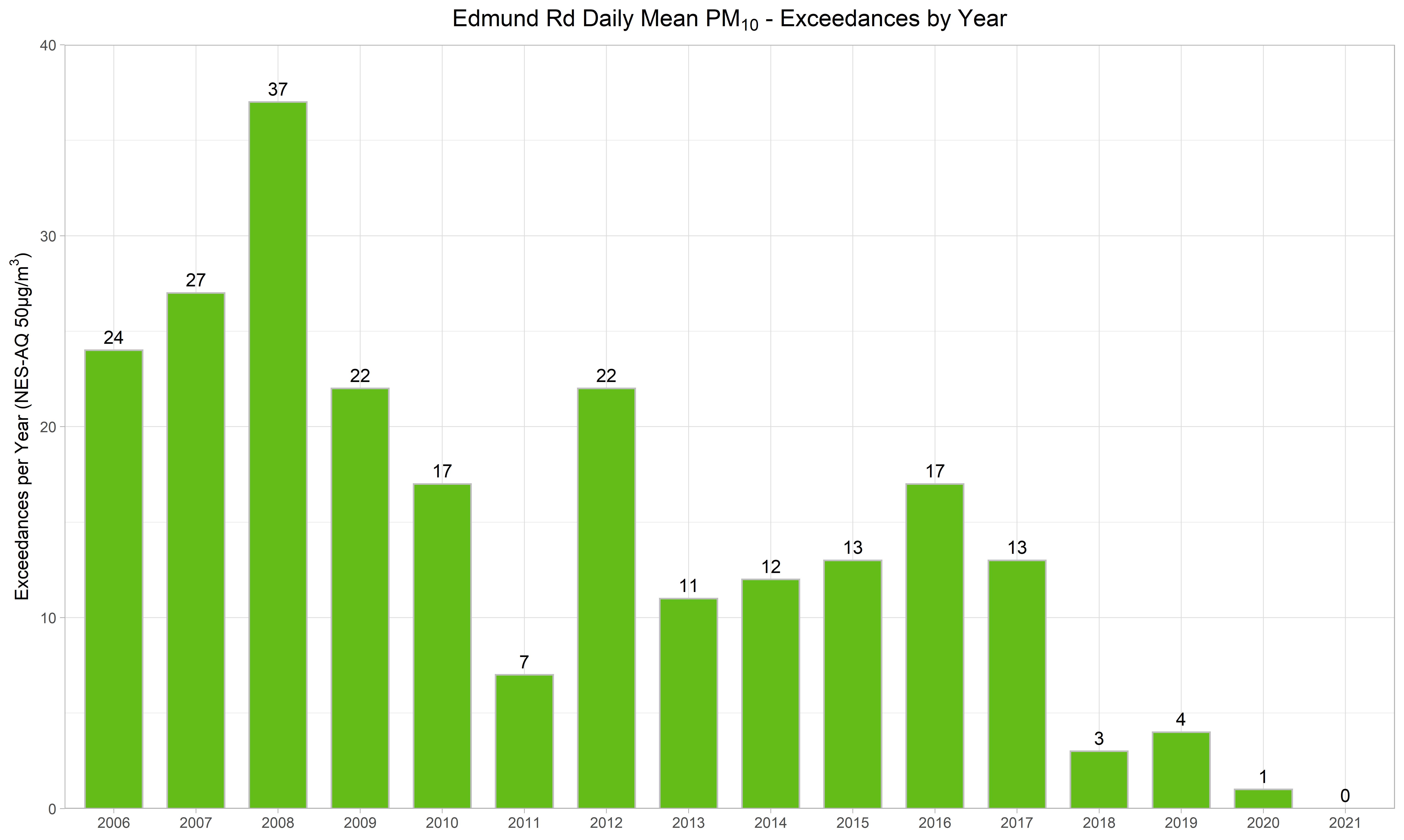 What's next?
While we have had fantastic air quality improvements in the Rotorua Airshed, we cannot become complacent now. The Airshed is still classed as 'polluted' under the NESAQ and will remain so until we have been able to maintain five years of only one PM10 exceedance per year.
It is illegal to use a non-compliant burner in the Airshed. Regional Council will continue with enforcement of the rules to ensure that everyone is playing their part and there are no non-compliant burners being used in the Airshed. Enforcement action so far has been focussed on engaging, educating and encouraging compliance. A stronger enforcement approach is now being taken.
Additionally, central government are proposing amendments to the NESAQ, meaning limits will get stricter. They are proposing to include a limit for PM2.5 – the much smaller particulate matter. This is because the smaller the particles, the worse the health effects become, as the smaller particles travel further into the body.
The last three years of PM2.5­ monitoring at the Edmund Road monitoring station indicates that the Rotorua Airshed will not meet central government's initial proposed PM2.5 limits. More pollution reduction measures are therefore likely to be required in order for the Airshed to meet the new limits. The amended NESAQ is expected to be released in late 2022 or early 2023, and Regional Council will assess future options at that time.
Pollution Hotline
If you suspect someone is using a non-compliant burner, smell an offensive odour, or notice excessive smoke please phone our 24/7 Pollution Hotline on 0800 884 883