His Excellency Charlot Salwai, Prime Minister of Vanuatu visited with councillors and staff at Bay of Plenty Regional Council's Tauranga Office yesterday.
He was accompanied by Honourable Matai Seremaia, the Vanuatu Minister for Agriculture, New Zealand High Commissioner to Vanuata Georgina Roberts, and a delegation of other officials from Vanuatu and New Zealand.
"The Prime Minister's party were interested in hearing about our work to manage growth, renewable energy resources, and the role of local authorities. They spent an hour with us and it was fantastic to be able to give them a ceremonial welcome and presentations about our work," said Regional Council Science and Strategy General Manager Fiona McTavish.
"Prime Minister Salwai said that Vanuatu's government structure is similar to ours and that it had been a useful for them to learn how we collaborate across central and local government to support growth and development in the region."
"He also expressed gratitude to locals for welcoming the Vanuatu people that come here to assist with our seasonal work. Some of the High Commissioner's family from Matakana Island were also able to join us and he was very pleased to be able to meet them," Mrs McTavish said.
ENDS
For further media information please contact media@boprc.govt.nz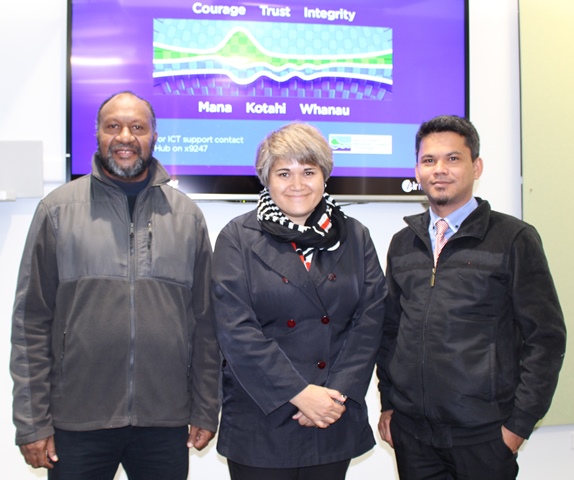 Left to right: Vanuatu Prime Minister Charlot Salwai, NZ High Commissioner to Vanuatu Georgina Roberts, Vanuatu Minister for Agriculture Matai Seremaia at the Bay of Plenty Regional Council office yesterday.