Rates are used to create a healthy environment, freshwater for life, safe and resilient communities, and a vibrant Bay of Plenty region. 
Our work is funded by a mix of rates, fees, charges, grants and investment income. Our investment in Quayside Holdings Limited means the average rates bill in 2021- 2020 was reduced by around $350 per property, a significant saving for ratepayers across the region. You can see how your rates are spent by checking out our Rates Tool.
We're making changes to rates
From August 2022 we're going to start collecting our rates ourselves. Since the Regional Council was established in 1989,  the seven district and city councils across the region have been doing this for us. We're making changes so that you can get to know the work your rates help fund.
You can find out more about these changes, including your rates for this financial year (2021/22), what your rates pay for, and how to sign up to receive your rates by email by visiting our main Rates page.
Still have questions? Visit our rates information hub.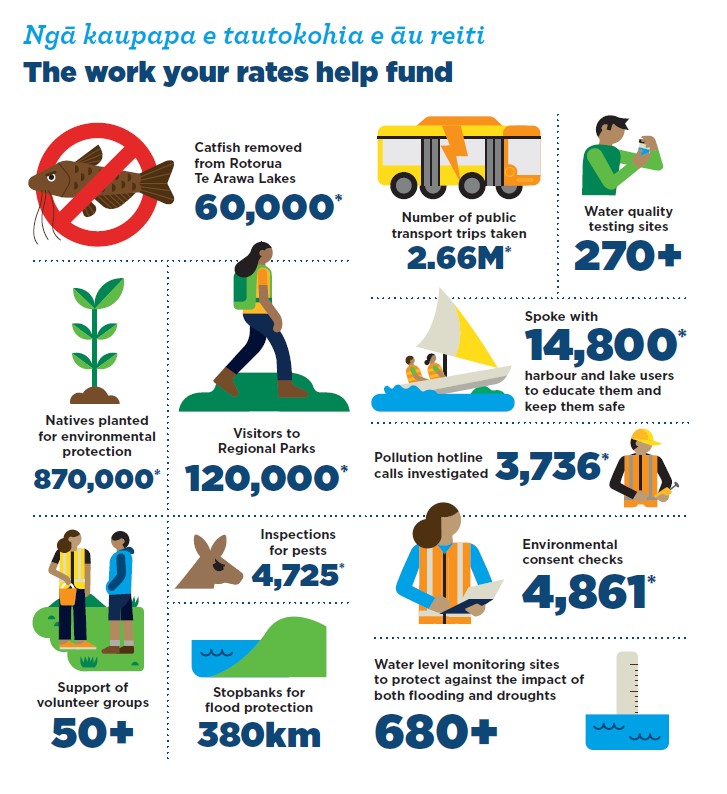 *Latest annual figures.
What we do
We look after the environmental management of the region, including protection of the region's land, air and water. We also respond to pollution events and take a lead role in animal and plant pest management. We have an active role in minimising risks from natural hazards, making sure you're safe when on the water along our coast and on our lakes and rivers, and we provide public transport. Read more about Regional Council.

Your city or district council
Your city or district council provides the services you use day to day. This includes quality drinking water, wastewater and stormwater, roads and rubbish collection, as well as providing community facilities such as parks, cycleways, community halls, libraries, swimming pools and sports fields.  
You can find links to your city or district council here.
Types of rates
There are three different types of rates, general, targeted and a Uniform Annual General Charge. Our Rates Tool shows you how the Regional Council allocates the income we receive from rates, as well as the income we receive from other sources. 
General rates and
Uniform Annual General Charge (UAGC)
These rates pay for the Regional Council services that benefit the whole region.  
General rates are calculated based on your property's land value, whereas the UAGC is a fixed charge applied per rating unit, irrespective of the value of a property.  
Targeted rates
Targeted rates are used to fund work that benefits a particular group of ratepayers - meaning only those who benefit from that work pay for it. Whether or not you will have to pay a particular Targeted Rate will depend on where your property is in the region.