When the trout fishing season opens at 5am, Tuesday 1 October, Bay of Plenty Regional Council has one key message for anglers and lake users: to please take care with your gear.
It's asking them to ensure they always check, clean (and where possible) dry their gear before leaving a waterway and moving to a new one.
Greg Corbett, Biosecurity Manager says it's a simple step, but an incredibly important one in helping to prevent the spread of aquatic pests.
"All it takes one person to unwittingly transport a small fragment of weed, a pest fish or its eggs to a new body of water and cause irreversible damage to our lakes," he says. "Once established, aquatic pests are difficult and costly to control, and even harder to eradicate."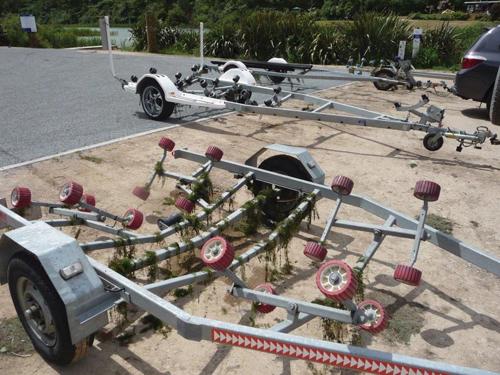 There are six weed cordons currently in place across the region help to reduce the risk of aquatic pests moving from lake to lake, but ultimately it's up to everyone to do their bit.
He said discovering catfish in Lake Rotoiti in 2016 was a huge blow for the region, and then finding the pest fish in Lake Rotorua in December last year highlights how easily they can spread between waterways. Bay of Plenty Regional Council is working in partnership with Te Arawa Lakes Trust to attempt to stop their further spread.
Catfish are a nasty invasive pest that prey not only on native fish, trout and trout eggs, but are also a serious threat to one of our taonga species, koura. They also lower water quality by churning up mud while feeding.
Mr Corbett says it's a huge challenge to manage the spread of catfish.
"Each female catfish has the potential to lay up to 6000 eggs and they can survive out of water for 48 hours, so it's vital that people are thorough in checking, cleaning and drying their gear."
Preventing the spread of aquatic pests doesn't require a lot of effort but it does require all lake users' involvement.
What you need to do
Protect the Rotorua Lakes and stop the spread of weeds and catfish to the other lakes. Before leaving any waterway, remove any weeds from your boat and gear, empty any ballast water and check your trailer for any weed, catfish or catfish eggs. People are urged to not leave their trailers in the water unless loading or unloading their boats.