A Bay of Plenty Regional Council contractor is starting checks on ornamental ponds in the Ōmokoroa and Maungatapu areas this month, in an effort to stop the spread of freshwater pests into local waterways.
Regional Council Biosecurity Officer Donna Watchman said that they are searching for invasive weeds and pond fish such as koi carp and rudd that can eat and out-compete native fish.
"In the wild, koi and rudd can make water murky and unhealthy when they stir up sediments and reduce oxygen levels. Invasive weeds like salvinia and water hyacinth grow as thick floating mats and can choke waterways, clog irrigation intakes and aggravate flooding," Ms Watchman said.
Regional Council last completed pond pest checks in 2016, in the Katikati, Oropi, Ohauiti, and Welcome Bay areas.
"We found at least one pest plant in 27 percent of the 303 ponds we checked in 2016, and fortunately no pest fish. Pests that seem safely contained in a pond can easily be spread elsewhere by birds, pond overflows, earthworks machinery, or if they're shared with neighbours and friends.
"People often have no idea that they have pests in their ponds. By casting an expert eye over them we can help people understand what to look for and minimise the risk of liberation into natural waterways. A new property owner who knew what to look for was a huge asset in helping us find  and remove koi carp from the Katikati area last year, in partnership with Department of Conservation," Ms Watchman said.
Regional Council's Authorised Contractor will be carrying identification and will be visiting Maungatapu and Ōmokoroa properties to check outdoor ponds from October 2018 to June 2019. A notice about the visit will be left in the letterbox or posted out after the visit to each property and occupiers will be advised if pests are found or further action is needed.
To discuss the pond checks or find out more about pond pests, people can chat to the contractor when they visit, or contact a Regional Council Biosecurity Officer ph: 0800 STOP PESTS (0800 786 773), email stop.pests@boprc.govt.nz. Information about aquatic pests is also available at www.boprc.govt.nz/aquaticpests.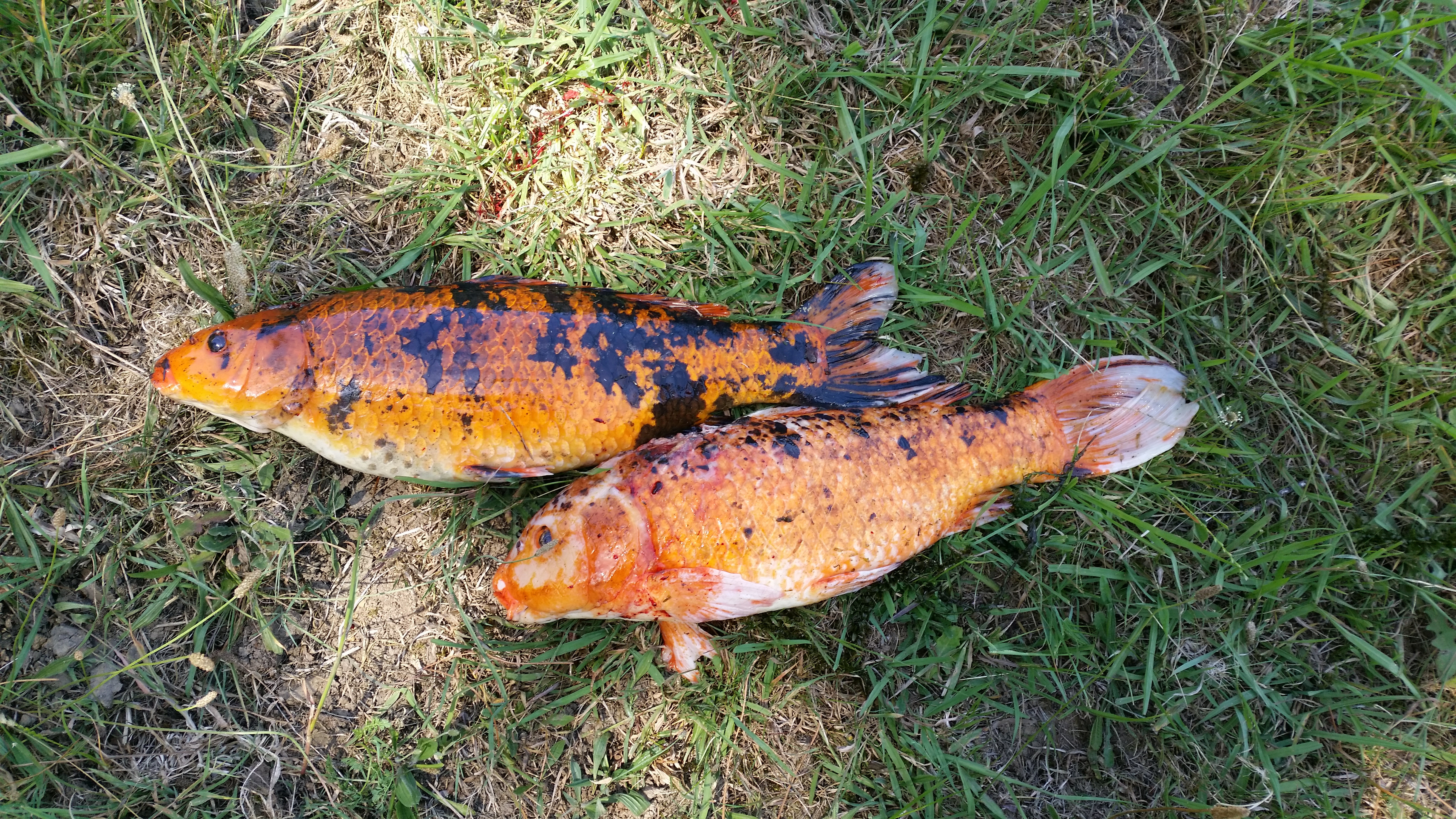 Two male koi carp (an invasive pest fish) that were found and removed from a Katikati pond last year.