Twelve interpretation panels, designed to improve an understanding of the priceless nature of the area, now mark the new Ōhiwa Harbour Heritage Trail, Ngā Tapuwai o Tairongo.  
Bay of Plenty Regional Council Land Management Officer Tim Senior is pleased to see the panels finally in the  ground, as the culmination of many months of painstaking research, design and consultation.
"The interpretive panels will allow locals, school groups and visitors to learn more about what makes the harbour so special. The Department of Conservation helped with the significant task of translating the content into Te Reo, which adds an invaluable extra level to the engagement. The information showcases the natural environment, wildlife and ecological values of the Harbour. Hopefully, an increased understanding of the harbour will encourage people to take good care of it," Mr Senior says.
Ōpōtiki Deputy Mayor Lyn Riesterer echos those comments, saying that the new trail is a great example of the Ōhiwa Harbour Strategy in action.
"Guardianship of Ōhiwa Harbour is an honour we undertake with pride on behalf of our community so that this incredibly special place remains that way for future generations," Ms Riesterer adds.
The development of the trail has been instigated and overseen by the Ōhiwa Harbour Implementation Forum, a collaborative partnership working to realise the Ōhiwa Harbour Strategy. The partners include Ōpōtiki and Whakatāne District Councils, Bay of Plenty Regional Council, Whakatōhea, Te Upokorehe, Ngāti Awa and Waimana Kaaku (Tūhoe).
The Ōhiwa partners are now working on the second stage of Ngā Tapuwai o Tairongo, which will add a further series of panels to explain the history and cultural significance of the  harbour and its environs.
Visitors can follow the trail from the road end at Ōhope Spit, around the harbour to the Ōhiwa Spit. A marker post, with the trail logo and a map, has been installed at the roadside close to each sign to guide trail users.
"While the term 'trail' generally denotes something to be walked or cycled, it's expected that most people will drive the trail due to the distance involved," Mr Senior concludes.
ENDS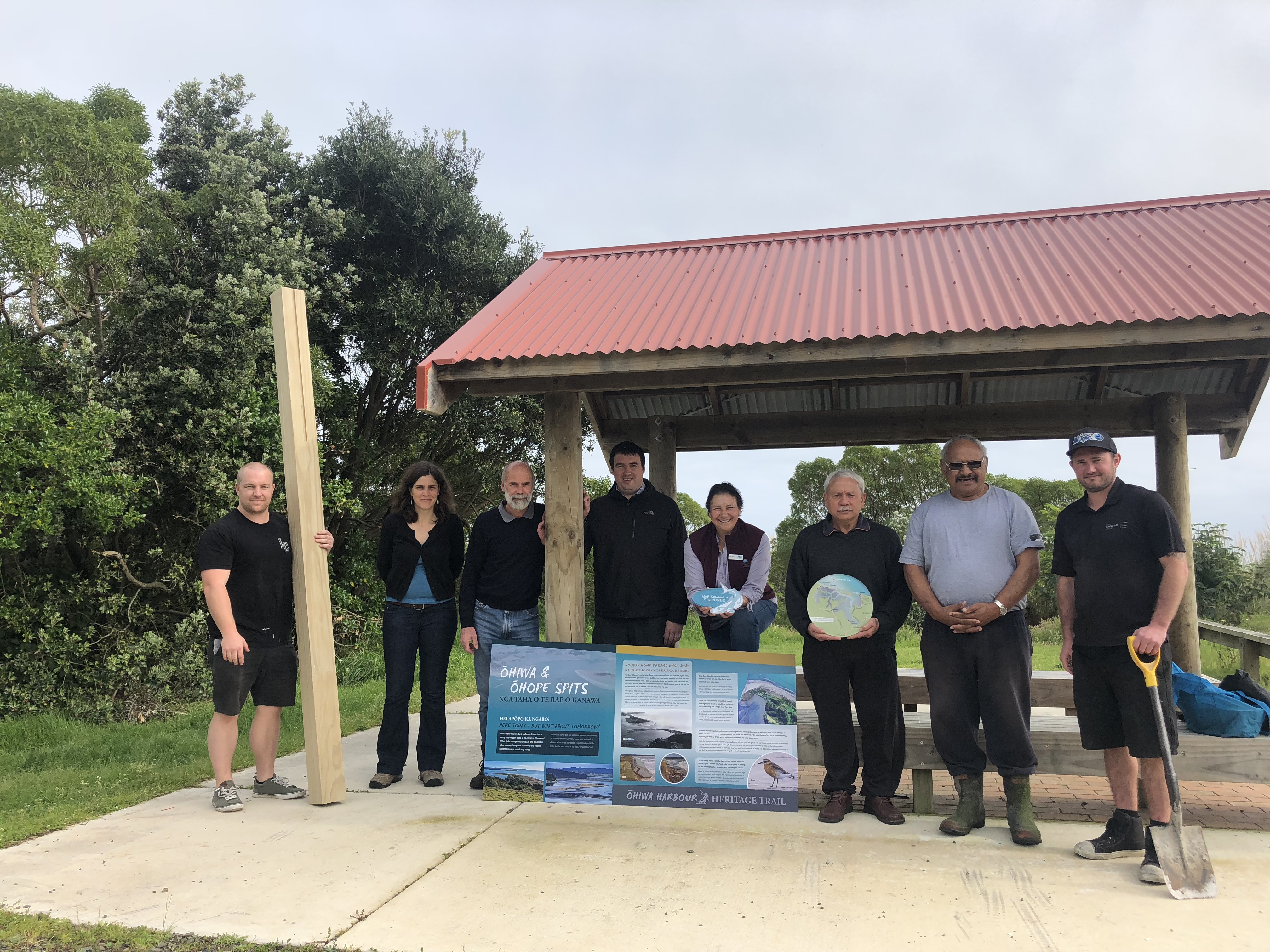 Upokorehe kaumatua Joe Pukepuke performed the karakia ahead of the recent installation process of the series of twelve interpretation panels, at ten sites of interest around the harbour.
Pictured from left, Shaun Anderson (Law Creative), Tania Rother (project manager), Tim Senior (BOPRC Land Management Officer), Gerard McCormack (ODC Planning and Regulatory Group Manager), Ōpōtiki Deputy Mayor Lyn Riesterer, Trevor Ransfield, Joe Pukepuke (Upokorehe iwi), and Grant Precious (Law Creative).