A public ceremony including karakia (prayers) and speeches to mark the start of construction works for the Kaituna River Re-diversion and Te Awa o Ngatoroirangi Maketū Estuary Enhancement Project will be held at 8.00am on Tuesday 12 June.
"This is a chance to celebrate the start of work the community has called for since 1979, and wish the contractors, cultural monitors and other contributors well for their mahi (work) ahead. J Swap Contractors Limited will start staff briefings and site set-up work straight after the ceremony," said Kaituna Catchments Project Manager Pim de Monchy. 
The ceremony will be held on the southeast stop bank beside the Ford Road culverts into the upper Maketū estuary. Car parking is available across the road from the ceremony location at the boat ramp car park off Ford Road.
Regional Council began feasibility assessments for the project in 2013. Eighteen different methods and options were considered before proceeding with detailed design, consultation, land acquisition, and consent application processes to prepare for the construction works that start this month.
The project is due for completion by 30 June 2020. It will return an average of 600,000 cubic metres of fresh water from the Kaituna River into Te Awa o Ngatoroirangi Maketū Estuary on every tidal cycle.
Prior to 1956, the Kaituna River naturally flowed into Maketū Estuary some or all of the time. Mr de Monchy said the original diversion was done to protect the low-lying farmland from flooding and improve drainage.
"But the result has been a loss of estuary health that's not acceptable to iwi and the wider community. So we've found a way to help restore estuary health while maintaining existing levels of flood protection and boat access through Te Tumu Cut," he said.
The $13.5m construction project includes creation of a new channel to carry fresh water from the river into a new inlet structure at Ford's Cut. Existing stop banks will be shifted and upgraded. Ford's channel will be widened and the Ford Road boat ramp will be upgraded.
Some road and boat ramp closures will temporarily disrupt boating and fishing access to Ford Road and Te Tumu Cut from 1 August:
Ford Road end (from the pump station near Ford's Cut bridge to Te Tumu Cut) will be closed from 1 August to 20 December. Traffic restrictions will remain in place until 30 June 2020.
Ford Road boat ramp and the stop banks on both sides of Ford Rd will be closed to the public from 1 August 2018 until 30 June 2020. Alternative boat launching access is available at the Bell Road boat ramp.
People can subscribe to receive email updates or see further information about the project at www.boprc.govt.nz/kaitunamaketurediversion.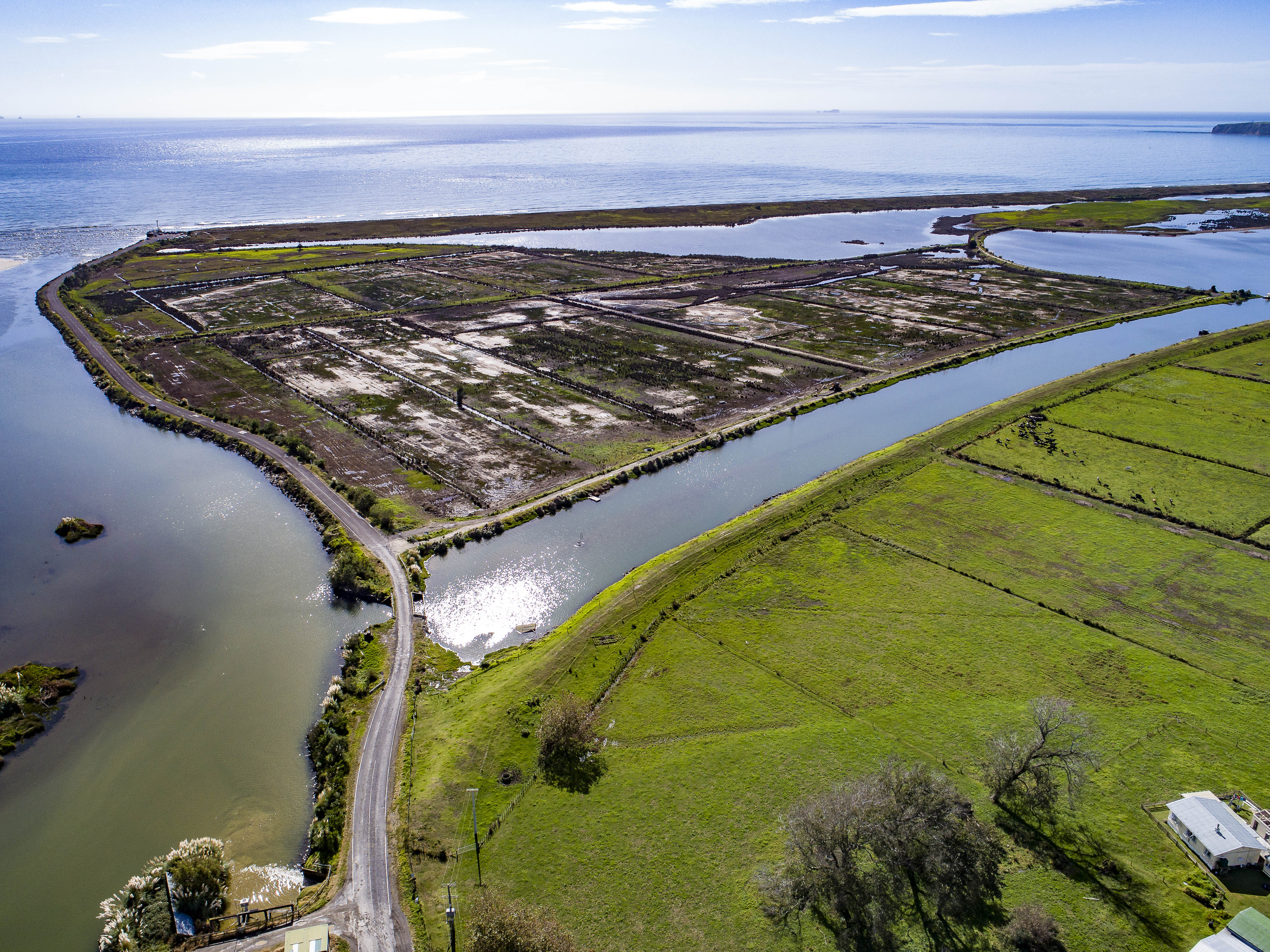 The return of freshwater flows from Kaituna River into the Maketu Estuary via Ford's Cut Channel will improve estuary health and support wetland restoration.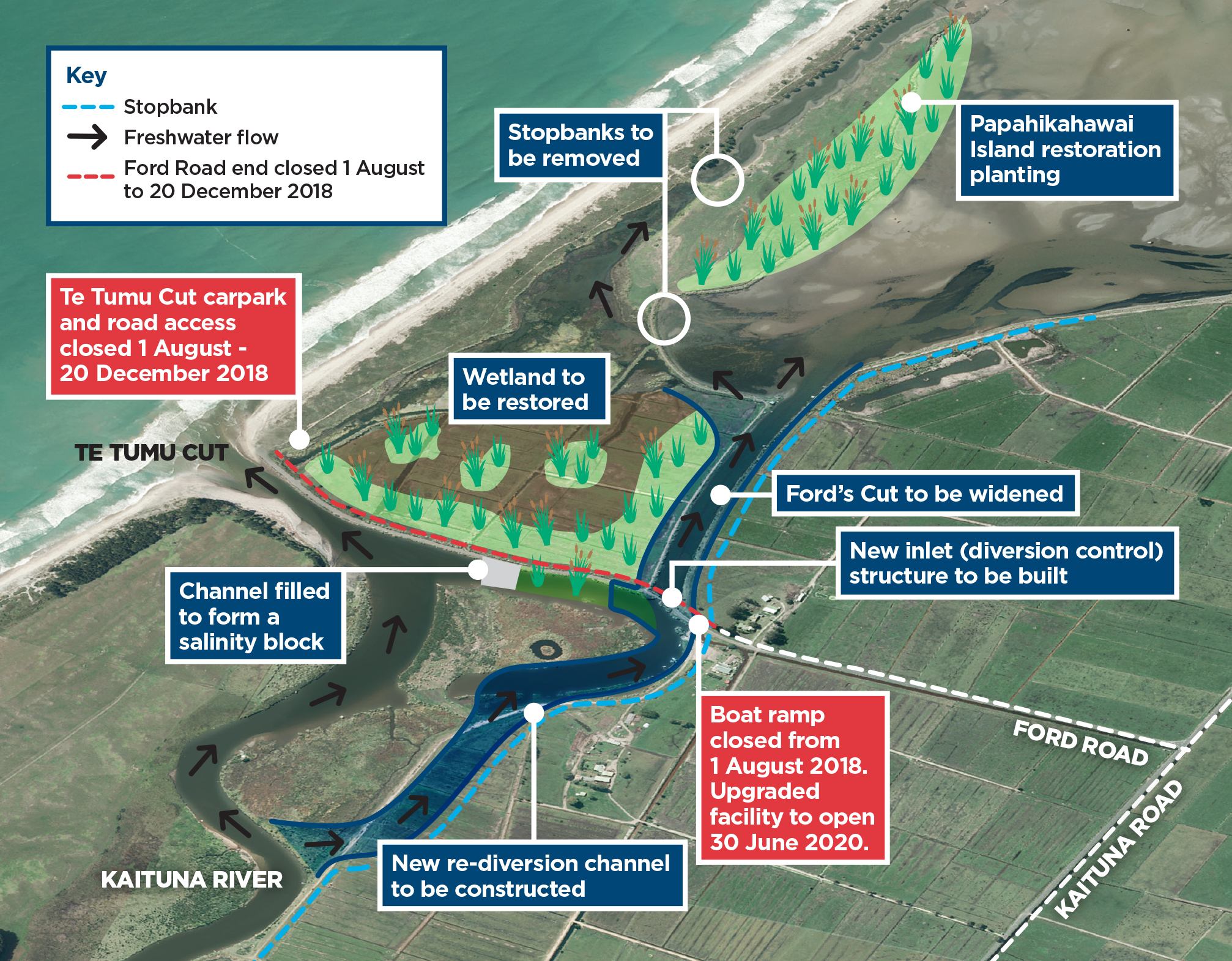 Kaituna-re-diversion overview map