Over 40 children from Fairview Park Kindergarten planted 26 trees in a "fruit forest" with the help of Bay of Plenty Regional Council yesterday.
The fruit trees included feijoa, lemon, apple, plum, mandarin and pears which would benefit the local community in the years to come.
Central Kids Fairview Park Kindergarten teacher Rachel Thaugland said the fruit forest was something they had always wanted to do.
It started with an idea of a mara-kai garden but ongoing maintenance would have been difficult for the Kindergarten, she said.
"We knew the fruit from fruit trees would be something our families would really benefit from as fruit is always so expensive.
"Our hope is that this will be somewhere for our community to gather fruit from. Our children who walk through here now and then in years to come as they start the walk onto high school will always be able to come here and pick a healthy snack from a tree they helped to plant."
Bay of Plenty Regional Council Community Engagement Environmental Enhancement Fund Coordinator Edward Sykes said healthy kai should be accessible for everybody in the community and the Environment Enhancement Fund which was used to establish the fruit forest was one way to do that.
The event which was organised by the Fairview Park Kindergarten team which involved children and whanau past and present who attended today.
Mr Sykes said each child made a plaque with a drawing, their name and the date which was then attached to the caging to protect each fruit tree to help give the families a sense of pride and ownership of their new fruit forest, he said.
The planting was made possible through the support of the Bay of Plenty Regional Council, Toi Ohomai, Western Community Groups and Rotorua Lakes Council.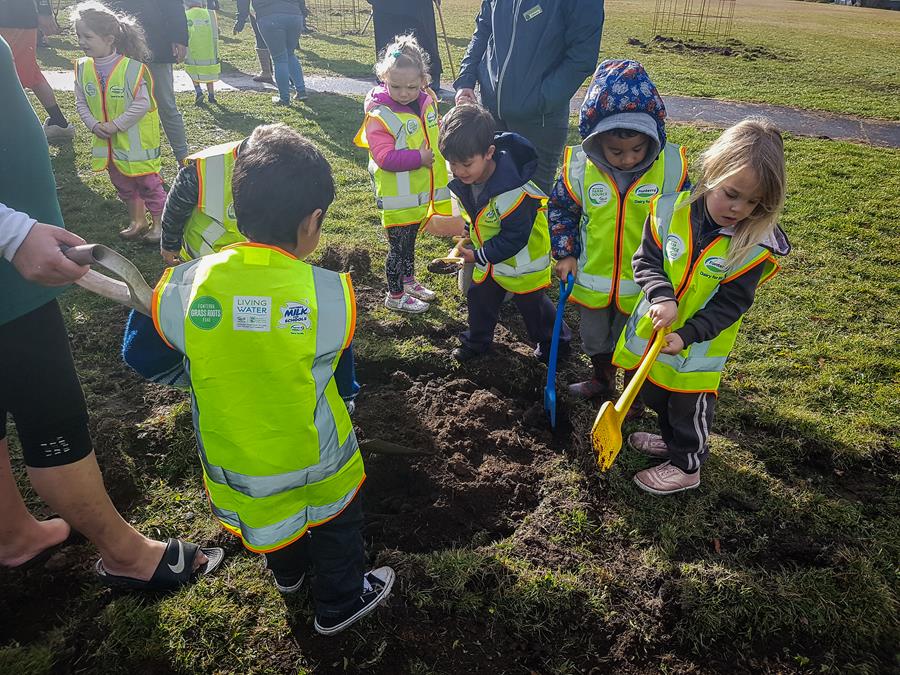 Fairview Park Kindergarten children helping plant their fruit trees. Photo/Bay of Plenty Regional Council.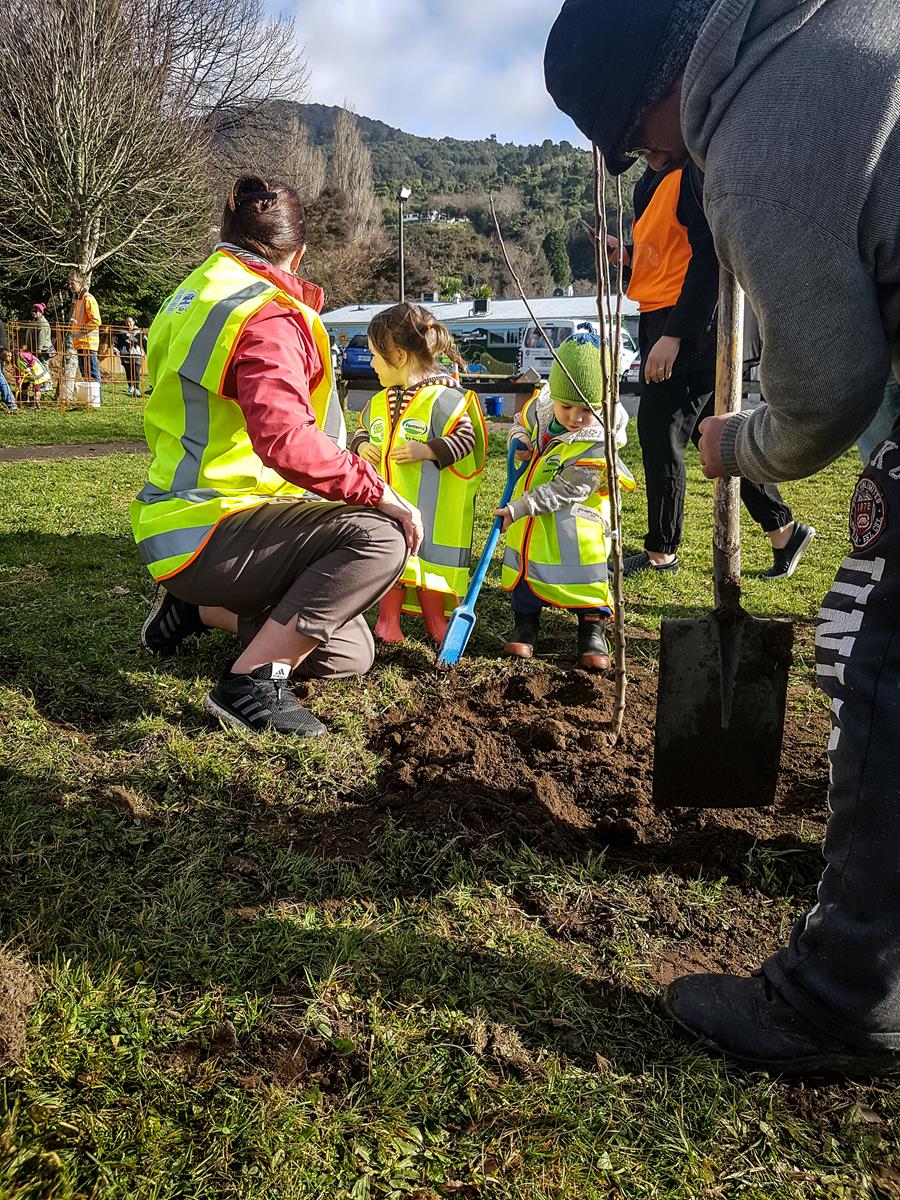 Community members planting one of their trees for the fruit forest. Photo/Bay of Plenty Regional Council.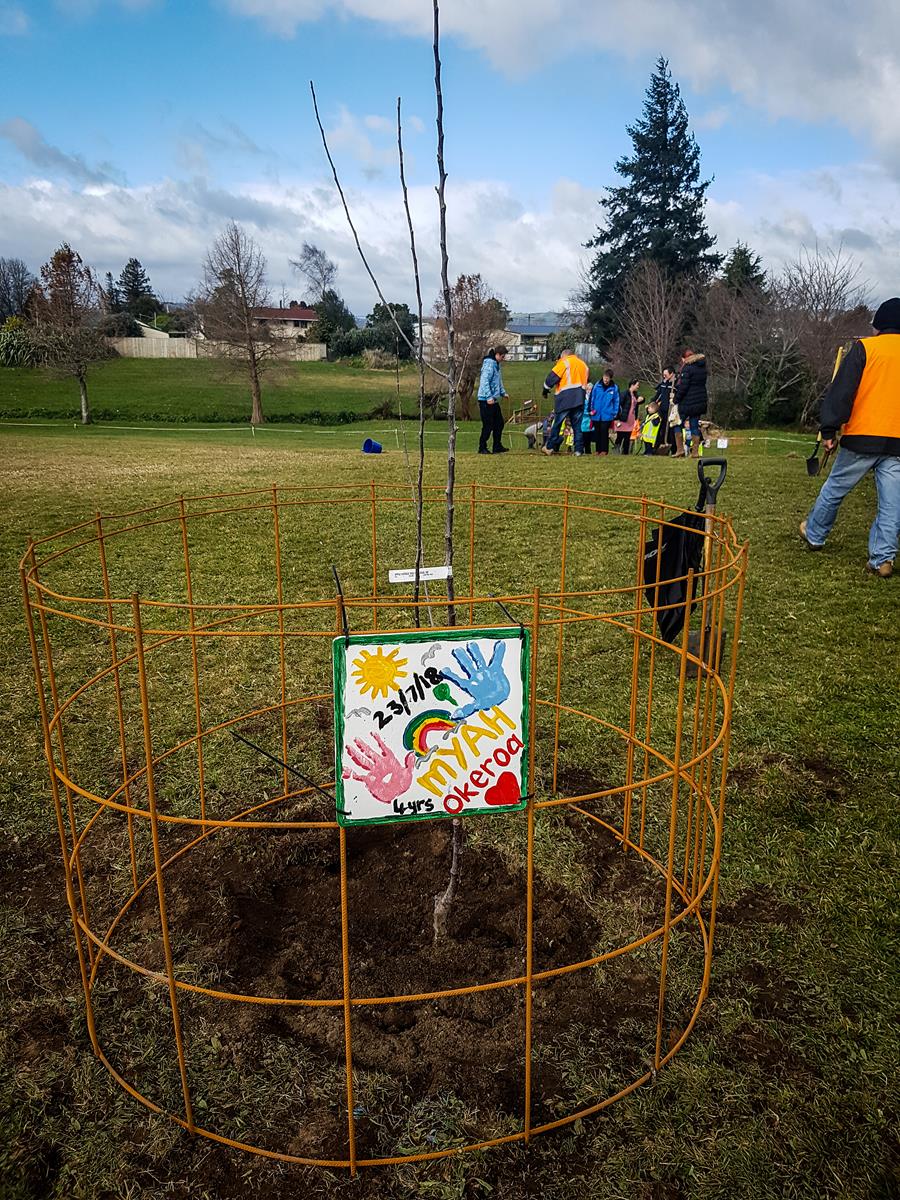 One of the plaques children from Fairview Park Kindergarten ​made. Photo/Bay of Plenty Regional
Council.