An Environmental Programme with far-reaching community benefits is guaranteed for another five years after yesterday's signing of a multi-partner agreement.
The Whakatāne and Ōhope Sites Environmental Programme has evolved from a 2005 Memorandum of Understanding between the Department of Conservation and the Bay of Plenty Regional Council, to a biodiversity management plan that covers almost 1300 hectares, across six sites of Scenic Reserve or covenanted land. Over time, the Whakatāne Kiwi Trust, Whakatāne District Council, Te Rūnanga o Ngāti Awa, Te Tapatoru a Toi, Ngāti Awa Group Holdings Limited and Kevin and Julia Dodds – parties who either own, manage or have a key interest in the sites - have become programme partners.
The Environmental Programme is the largest community-based protection and enhancement project funded by the Bay of Plenty Regional Council, which has committed over $1.1million to the initiative. The seven programme partners will together contribute a further $1.04million in cash or volunteer resource.
The partners' investment funds a work programme that protects the ecological integrity of the sites, including  intensive predator control targeting possums, rats, weasels, stoats and wasps. Across the sites there are over 3600 traps and bait stations, monitored by contractors and an army of volunteers.
Department of Conservation Operations Manager Jade King Hazel chairs the programme's steering group, a position initially held by Te Tapatoru a Toi chairman Te Kei Merito.
"I'd like to acknowledge Mr Merito's achievement in bringing all the key partners to the table. The collaborative nature of the programme is definitely the reason for its success and it's inspiring to work with a group of people who are so committed to protecting our flora and fauna for the future generations to come.
I'd also like to commend the Regional Council's Project Manager Shay Dean who has done a great job in pulling the whole programme together and working so closely with the operations group on the ground.
As well as the direct ecological gains, the activities funded through this EP provide a variety of important wider social, economic, cultural, educational and recreational benefits to the community, ranging from employment opportunities (pest control contracts and eco-tourism), to fostering volunteerism, providing research opportunities for tertiary students, and of course, strengthening the ability of Whakatane to be 'Kiwi Capital of the World'."
Highlights of the work carried out in previous years of the programme have included a growth in recorded Kiwi numbers (from 17 in 2005 to 300 in June 2016); the release of North Island Robin in 2014; pest management to levels regularly below monitoring requirements; and significant recovery of vegetation, and bird and insect populations.
The Environmental Programme agreement was signed at a ceremony attended by representatives of the partner groups held at the Department of Conservation Office in Whakatāne. Among the guests was newly appointed Bay of Plenty Regional Council Chief Executive Fiona McTavish who said she was honoured to be a signatory to such an iconic document.
"It's truly an exciting time when we can partner together to collaboratively achieve things for our communities. Over the next five years we look forward to consolidation, in particular, bedding in the new governance framework, improving cohesion amongst the partners, and finding efficiencies to build on the highly successful achievements to date," Ms McTavish said.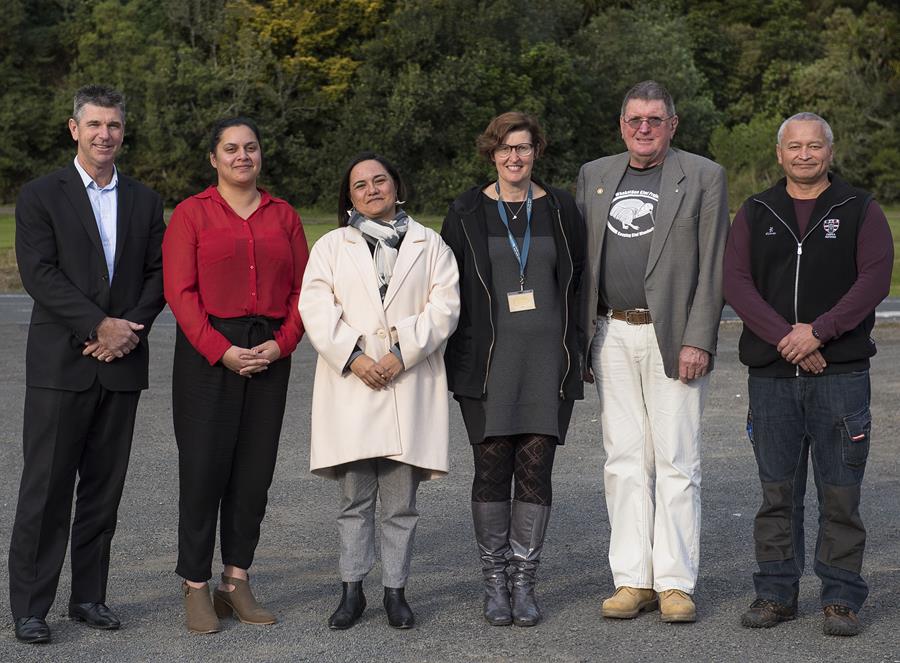 Whakatāne and Ōhope Site Environmental Programme partner representatives: Chief Executive, Whakatāne District Council Marty Grenfell; Operations Manager, Department of Conservation Jade King Hazel; Chief Executive, Te Rūnanga o Ngāti Awa Leonie Simpson; Chief Executive, Bay of Plenty Regional Council Fiona McTavish; Chairman, Whakatāne Kiwi Trust John Pullar; and Operations Manager, Ngāti Awa Group Holdings Limited Robert Hudson.