On Monday 22 January 2018, the Kopeopeo Canal Remediation Project marked a significant milestone with sediment dredging from the Canal getting underway.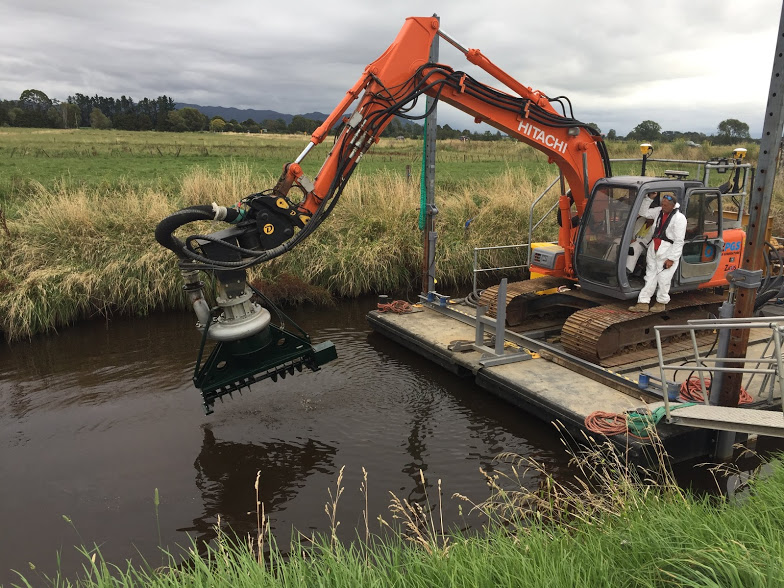 Acting Project Manager, Ken Tarboton, said that the milestone was significant for the team and for the wider community.
"This week the contractor started removing contaminated sediment from the main Canal and moving it to a contained area where it can be kept safely and eventually remediated.
"This is a huge milestone – to finally start removing contaminated sediment from the Canal after many years of hard work by a lot of people and leave such a positive legacy for future generations. In particular, it is time we remember Joe Harawira and SWAP [Sawmill Workers Against Poisons] who would be proud to reach this point," Mr Tarboton said.
In stages, the Project will remove, safely store and bioremediate up to 40,000m3 of sediment from the Canal using cutter-suction dredge methodology. The Canal was contaminated between the 1950s and late 1980s as a result of stormwater discharges from a former sawmill, which treated timber using Pentachlorophenol (PCP).
The estimated cost of the project is $15.5 million and is equally funded by the Ministry for the Environment through the Contaminated Sites Remediation Fund (CSRF) and Bay of Plenty Regional Council.
"When the dredging operating has been going smoothly for a while, we hope to be able to allow the public to see how the process works with a small open day. It will be particularly important to bring our Community Liaison Group through the site as they have been on this journey with us for almost three years now and are crucial to our success. The open day will be an opportunity to see the work we are doing up close and celebrate this big step forward," Mr Tarboton said.
ENDS  
Background
Detailed information on the Kopeopeo Canal Remediation Project can be found at www.boprc.govt.nz/kopeopeo
The Bay of Plenty Regional Council (Rivers and Drainage Group) is working with the community to clean up dioxin-contaminated sediment in the Kopeopeo Canal. The canal was contaminated between the 1950s and late 1980s as a result of stormwater discharges from a former sawmill, which treated timber using Pentachlorophenol (PCP). While unknown at the time, PCP imported into New Zealand for use in the timber processing industry also included a percentage of impurities that contained dioxins.
The project will take a staged approach to remove, safely store and treat up to 40,000m3 of sediment.
Consent was granted for works to begin in 2014, subject to significant conditions. The community raised a number of concerns about the original methodology (excavators and trucks) for removal of the sediment. Following a successful pilot study of a new method in October 2015, an application was lodged in May 2016 to vary the existing consent so that the sediment could be removed by a cutter suction dredge and transferred by pipeline to the containment sites. This new method virtually eliminates the heavy traffic and potential for spillages and associated dust generation, and brings improvements to the containment site design which reduces potential groundwater and flooding related effects. 
The variation to the consent was approved in September 2016.
More information about the Contaminated Sites Remediation Fund