As the region's whitebait fishers dust off their nets, Bay of Plenty Regional Council Freshwater Ecologist Alastair Suren is working on research to map whitebait 'love zones'; the areas where whitebait spawn.
"We've spent more than 100 hours in a small tin boat since February, mapping and assessing the current state of whitebait spawning areas on 23 Bay of Plenty rivers," said Dr Suren.
Dr Suren said that changes in water quality and loss of suitable spawning habitats have played a large part in the decline of whitebait species over time. He said that riparian restoration and protection of spawning areas can help turn the tide on that decline.
"Regional Council staff already work closely with landowners to encourage protection of whitebait habitat, as part of our Riparian and Biodiversity Management Programmes. By gathering more accurate information on spawning areas we'll be able to identify what and where other tactics could make the most difference for whitebait breeding success in future," Dr Suren said.
Department of Conservation administers the rules for the whitebait fishing season which is open from 15 August to 30 November in the Bay of Plenty.
Dr Suren said that a lot of people don't realise that the whitebait they catch are generally a mix of five different species of native fish that spend most of their lives in freshwater rivers and streams. One, the shortjaw kōkopu, is classified as a threatened species, while the giant kōkopu, inanga and koaro are classified as at risk and in decline.
"Inanga are the most common whitebait species and they don't climb as well as the others. I always encourage whitebaiters to let the fish that try to climb out of their buckets go. That way they're helping the most threatened species to survive.
"One mature female inanga can lay thousands of eggs at a time. They lay on the highest tides in autumn, placing their eggs in well-vegetated areas along the edges of estuaries and stream mouths in the 'love zone' – the area where sea water and fresh water meet," Dr Suren said.  
The larvae then hatch and wash out to sea a month later, on the next spring tide event. Those that survive at sea will return as juvenile fish to run the gauntlet of whitebait nets and natural predators in spring. Most whitebait species then work their way upstream and grow to become breeding adults, except for inanga which stay near the coast.
"Whitebait breeding potential is huge, but they're incredibly picky about where they spawn. The bank angle, salinity levels and vegetation cover needs to be just right, and the spawning area needs to be protected from trampling or other disturbance for the eggs to be able to survive," said Dr Suren.
The exact location of spawning sites varies with different tide and river levels. So Dr Suren has surveyed each river mouth on multiple high tides, including early mornings and weekends, especially over Easter, to be able to fully map the extent of spawning areas. The survey has included collection of salinity measurements and observations of stream bank angle, vegetation type and other factors that affect spawning suitability.
"We have to work around the tides, with just a few hours to gather as much data as we can during each site visit," said Dr Suren.
Dr Suren will be writing up his findings in the coming months and expects a final report to be available by the end of the year.
Further information about Regional Council's work to care for fresh water and fish habitat is available at www.boprc.govt.nz/freshwaterfutures.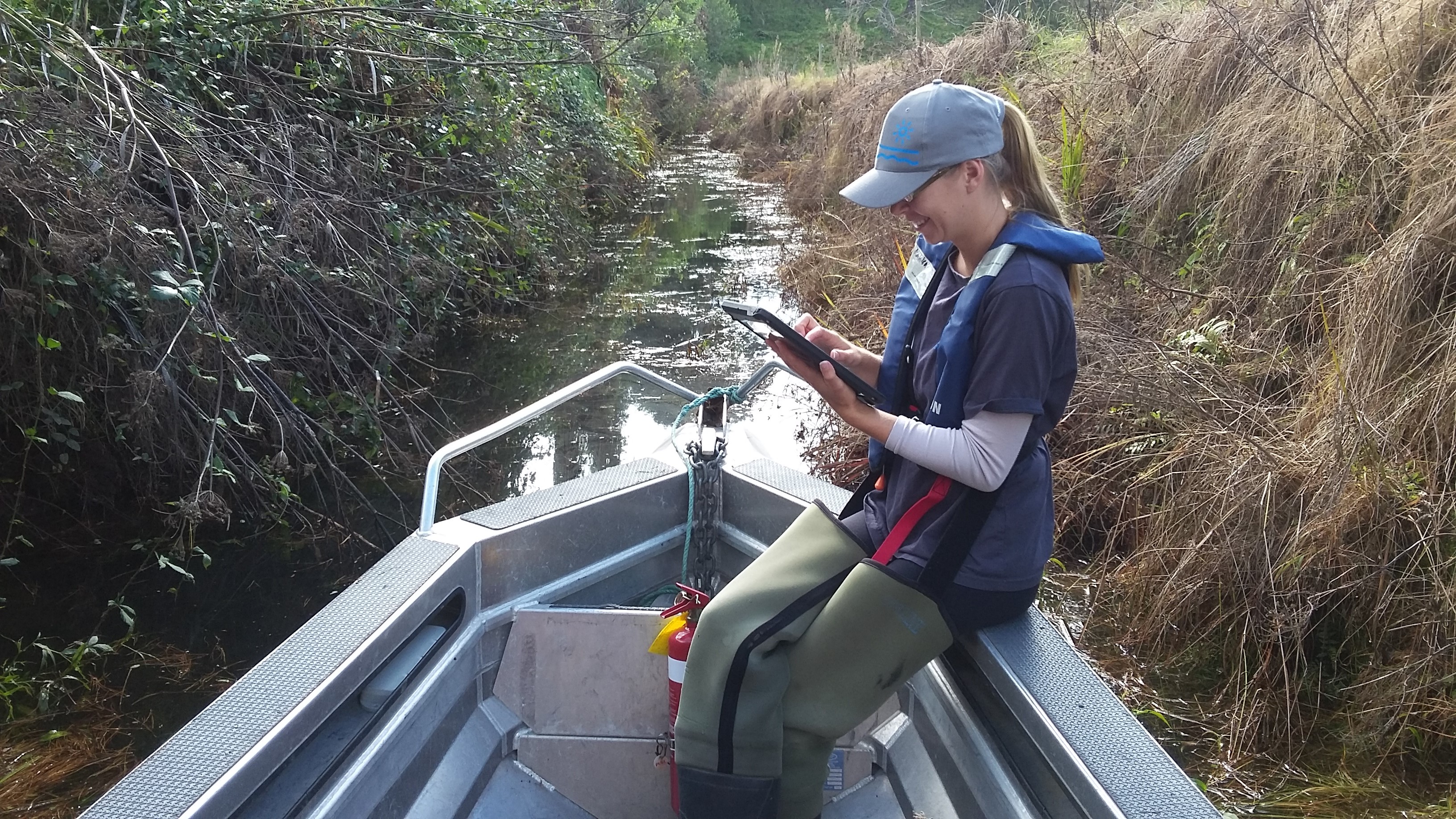 Regional Council contractor Courtney Williams assisting Dr Suren with his whitebait research in a small stream flowing into the Aongatete River, near Katikati.