Bay of Plenty Regional Council staff and contractors are expecting to check up to 2000 boat hulls this summer in their efforts to stop the spread of marine pests.
"There's a real risk of marine pests being introduced to Tauranga Harbour by recreational boats that travel here from pest infested waters such as Auckland's Hauraki Gulf. If we find any pest-infested hulls, the boat owners will be asked to haul out and have their hull cleaned," said Bay of Plenty Regional Council Biosecurity Officer Hamish Lass.
Mr Lass said that local boaties can help protect the harbours they love by keeping their moored boat hulls clean and anti-fouled.
"A harbour full of clean hulls will slow the spread of pests if they do manage to hitch a ride on a visiting boat. No more than light slime, all the time, is the golden rule so that marine pest spores can't latch on and grow unseen in the fouling fuzz. It also pays to double-check your hull and inspect any underwater nooks and crannies on your boat before you head off somewhere new," he said.
Sea-faring visitors can prevent holiday hassles if they clean their hull before heading to the Bay of Plenty.
"Some marinas also require proof of recent cleaning so it pays to call ahead and check what they need. Bay of Plenty swing mooring holders are required to notify the Harbourmaster before loaning out their mooring to a visiting vessel. We've been working hard to prevent fanworm and other unwanted marine pests from establishing here. Their aggressive growth habits mean they can interfere with fisheries, ruin our fabulous underwater environments and create problems for boat owners and marine-based businesses," said Mr Lass.
This summer's hull checks are an extension of marine pest surveillance work that Regional Council has been leading around Tauranga Harbour, Whakatāne and several off-shore islands since a single Mediterranean fanworm was first detected in Tauranga Harbour in 2013. It complements Ministry for Primary Industries border detection work which focuses on high-risk areas associated with the Port of Tauranga.
In the past three years, marine pests have been detected and removed from the hulls of 11 recreational boats in Tauranga Harbour. The boats had all been brought to Tauranga from Auckland or Northland, without prior hull cleaning.
University of Waikato have been contracted to assist with Regional Council's marine pest work. They'll be helping with underwater searches and installing new monitoring tools like passive monitoring stations. Bay of Plenty Regional Council dive team with assistance from the University of Waikato have also been helping neighbouring councils with their marine pest checks in Gisborne and Coromandel.
See www.boprc.govt.nz/marinepests for further information.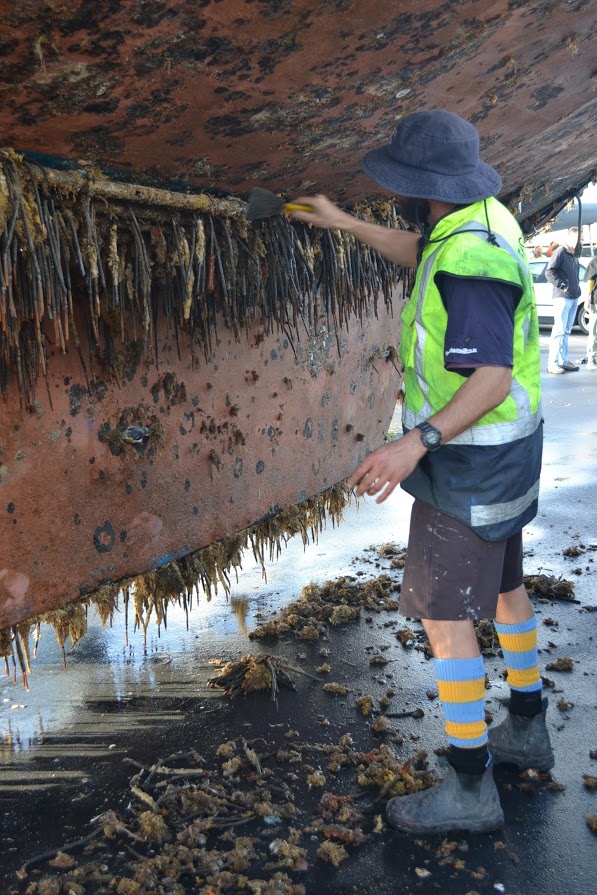 A recreational boat which is heavily fouled with Mediterranean fan worm having its hull cleaned.