The Rena grounding has become known as New Zealand's worst maritime environmental disaster.
Early on the morning of 5 October 2011 the Cargo Vessel Rena struck Otaiti (Astrolabe Reef), approximately 12 nautical miles of the Tauranga coast in the Bay of Plenty, and grounded.  At the time of impact the vessel was travelling 17 knots and was carrying 1368 containers of cargo and 1700 tonnes of heavy fuel oil and 200 tonnes of diesel fuel. Maritime New Zealand declared a tier 3 response, and mobilised the National Response Team for oil spill response.
In the course of the first month salvage company Svitzer worked around the clock to remove oil, however severe weather caused some oil to spill from the wreck and wash up on local beaches.
Volunteers, the New Zealand Army and other trained responders spent days cleaning up oil from beaches. More than 1000 dead birds were found and 300 birds (mainly little blue penguins) were rescued and taken to the wildlife oil spill response facility.
Eighty eight containers were lost overboard and containers and debris washed up on beaches. Eleven containers were identified as containing hazardous goods.
Local iwi supported the efforts to clean-up coastlines. An exclusion zone was set around Otaiti (Astrolabe reef), beaches closed to the public and people were warned against eating kaimoana (seafood).
The Rena Recovery Programme has now been completed.
A number of organisations, government agencies, regional and local government councils, tertiary institutions, iwi and community groups were involved in Rena response and recovery. All had a common aim: to minimise the environmental impact of the Rena disaster and return Bay of Plenty's coastline to its pre-Rena state as quickly as possible.
The Rena Recovery Team was directed by a governance group to implement the Long-Term Environmental Recovery Plan.
Rena Recovery Governance Group
Motītī Maketū (Te Arawa)

East Coast iwi
What's happening at the moment?
Following the grounding of the Rena, for safety reasons a temporary moving exclusion zone was established. This was later removed in 2016 for vessels under 500 tonnes when the wreck was no longer a navigational hazard.
The Motītī Rohe Moana Trust, together with Forest & bird, made a submission to the High Court for the exclusion zone to be re-established in 2015.  The High Court agreed with the submission and issued an interim decision in May 2018 that Regional Councils can impose planning controls over fishing in their regional plans under the Resource Management Act 1991 (RMA). The decision instructed the Bay of Plenty Regional Council to create three protected areas near Motītī Island in their Coastal Plan.
Ministry for Primary Industries appealed the decision and we are presently waiting for the decision to be heard by the  Court of Appeal. In the meantime Bay of Plenty Regional Council – Toi Moana is abiding the decisions of the various courts and has been working with the Motītī Rohe Moana Trust and Forest & Bird to seek agreement on the rules and other provisions for inclusion into the Bay of Plenty Regional Coastal Environment Plan.
The Astrolabe Community Trust lodged their consent application to abandon the remains of the MV Rena, its equipment and cargo and associated debris on Otaiti and to allow for future discharge on 30 May 2014. These were granted in October 2017.
Rena timeline
A summary of the events following the MV Rena grounding from October 2011 to February 2012.
5 Oct 2011
CV Rena runs aground on Astrolabe Reef, Tauranga.

National Oiled Wildlife Response Team & Equipment mobilised.

Work to establish an oiled wildlife facility at Te Maunga begins.
6 Oct 2011
An early morning flight by Maritime NZ (MNZ) confirmed an oil slick stretching 2 kilometres.

Four dead birds were found, covered in oil. An oiled wildlife response team was mobilised.
7 Oct 2011
Oiled wildlife field response begins.

First live oiled little blue penguin admitted to oiled wildlife treatment facility.
8 Oct 2011
First major release of oil occurs after weather conditions deteriorated.

Fresh oil is spotted leaking from the cargo ship, which was on an 11 degree list, port side.

Specialists from around New Zealand and Australia join the more than 100 member strong oil spill response team led by MNZ.

Three hundred defence force personnel placed on standby.
10 Oct 2011
Significant oiling begins to impact Tauranga coastline.Clumps of oil were found washed up on Mt Maunganui beaches and at the southern end of Matakana Island.

3500 tonnes of oily water recovered and offloaded at the Port of Tauranga.
11 October 2011
Between 200 and 300 tonnes of oil spilled into the ocean.

The Rena moved to a six degree list during an overnight storm, making it more stable but rough sea conditions prevent any oil from being removed.

The ship's crew made a mayday call in the morning and were evacuated via helicopters and Navy vessel. The crew shut down all systems before leaving the ship.

The Wildlife Response Centre is caring for 17 oiled birds and have counted a total of 53 dead birds so far.

More oil washes ashore.
12 Oct 2011
Approximately 70 of the 1368 containers on board came off the Rena into the water.

A thick slick of oil coats Motītī Island and many Bay of Plenty beaches.

The Master of Rena is charged under section 65 of the Maritime Transport Act (MTA) 1994, "for operating a vessel in a manner causing unnecessary danger or risk".

Cracks appeared in the vessel, including one large crack down the middle of the ship.

Seventeen kilometres of coastline  cleared of oil, according to MNZ.

The exclusion zone around Rena is extended from 2.7 kilometres to 45 kilometres by 40 kilometres.
13 October 2011
Environment Minister Nick Smith describes the Rena stranding as New Zealand's 'worst maritime environmental disaster'.

A total of 88 containers  fall from the ship.

The second officer appeared in court. Both crew members that were charged had to surrender their passports.

Five hundred volunteers clean oil off beaches from Whangamata to Whakatāne.

Beaches were closed from Mount Maunganui to Maketū Point as more containers and oil washed ashore.

The Wildlife Response Centre confirmed at least 200 birds were found dead.



15 October 2011
Two thousand people including volunteers and 140 New Zealand Defence Force personnel cleaned up at least 70 percent of Papamoa Beach. Beach access remained restricted and several boat ramps remained closed.
18 October 2011
Bad weather forces salvors to stop pumping oil from the stricken vessel.

1290 dead birds and four dead seal pups found.

The Wildlife Centre cared for 207 live birds and three seals.
22-23 October 2011
Another 5-10 tonnes of oil lost overnight.
15 November 2011
By this date all accessible oil had been removed from the Rena.

High seas further damage hull.
16 November 2011
First container lifted off the Rena.

Beach access restrictions between Mount Maunganui and Maketū Estuary officially lifted after volunteers rid the beaches of oil.
17 Nov 2011
The height of the wildlife response was reached with 407 oil-affected birds in care.
22 November 2011
Release of 49 little blue penguins takes place after the penguins pass swim tests and veterinarian checks.
23 Dec 2011
Te Maunga oiled wildlife facility demobilised and remaining 16 birds in care transferred to Massey University, Palmerston North.
8 Jan 2012
Rena splits into two sections during heavy seas.
17 Feb 2012
The last major release of oil-affected wildlife occurs by boat near Motītī Island.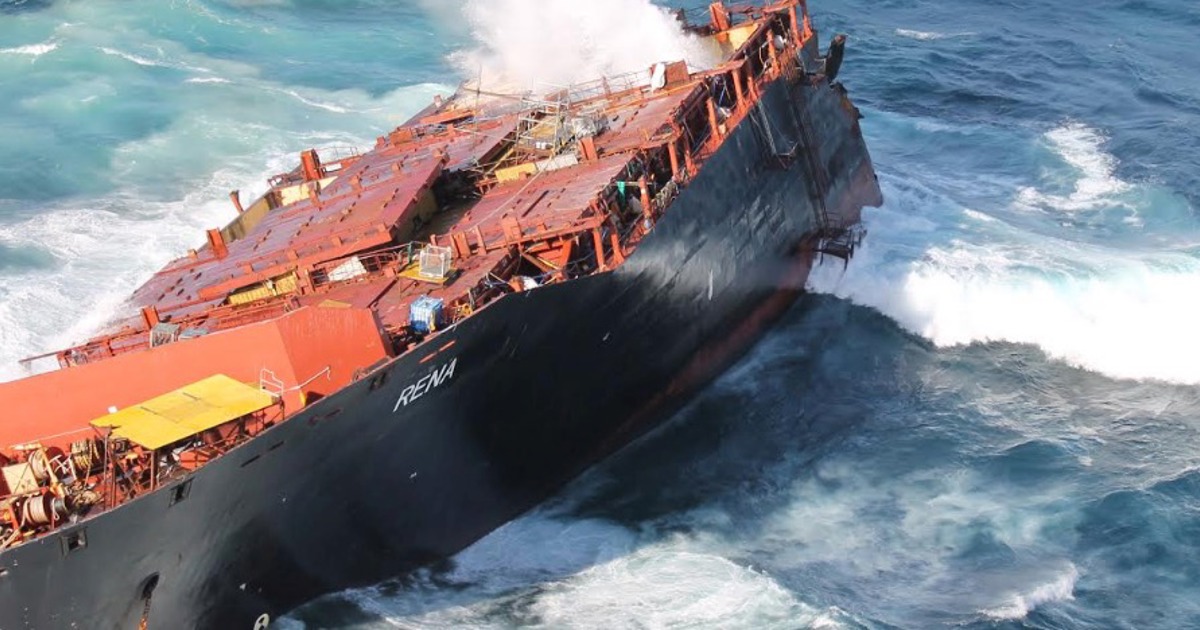 Get involved
Send us any feedback, images, videos, news or other content about this project.
PROJECT CREATED
03 Jan 2017
Events
There are no events scheduled for this project.
YOU MAY ALSO BE INTERESTED IN: