The Rangitāiki Floodway project is a multi-stage project to take pressure off the flood-prone Rangitāiki River by diverting some of its flow.
Increasing the capacity of the Floodway reduces flood levels in the Rangitāiki River from upstream of Edgecumbe to the river mouth. This will in turn reduce pressure on Rangitāiki River stopbanks during large flood events.
The project works in stages
Stage 1: Channel widening. Physical works were completed in the 2011/12 construction season ($3.2 million).
Stage 2a: Channel widening. Physical works were completed in the 2013/14 construction season ($2.7 million). 

Stage 2b: Channel widening. Physical works completed in the 2014/15 construction season ($2.5 million).
Stage 3: Stopbank raising. Physical works completed in the 2015/16 construction season ($2.05 million).
Stage 3a: Channel widening and wick drains. Physical works completed in the 2016/17 construction season ($2.4 million).
Stage 4: Channel widening. Works currently underway.
Stopbank raising in 2018/19 ($3.4 million budgeted)
Stopbank raising and spillway in 2019/2020 ($2.6 million budgeted).
What's happening at the moment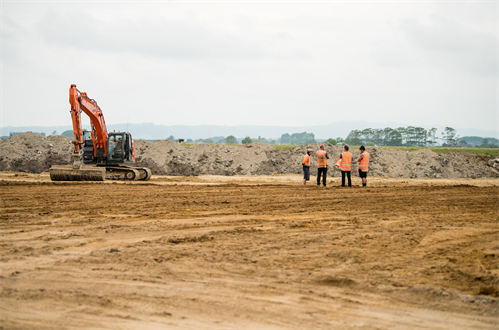 Stage 4 works are on the true left bank of the Floodway, downstream of Thornton Road. This stage includes earthworks to relocate stopbanks, channel widening to increase capacity, and works on internal drainage systems.
There is currently a variation to the resource consent being sought for the creation of a fork in the Floodway resulting in two outlets into the lower Rangitaiki River, this is known as a bifurcation. The bifurcation will reduce the amount of upstream floodway works needed to achieve the required capacity of the floodway.
Spillway
A crucial part of the Floodway project is an upgrade of the existing fixed crest weir spillway - the mechanism used to divert floodwater from the Rangitāiki River into the Floodway.
The existing spillway is planned for an upgrade in 2019/2020 and Council has looked extensively at several options: a lower crest weir, a collapsible tipping block, and a rubber inflatable dam. There are significant differences in the costs, advantages and disadvantages of these options.
Council is currently consulting on two options; lower crest weir and rubber inflatable dam. The lower crest weir would require a change to the resource consent granted in 2008. Consultation is at an early stage and there will be a number of opportunities for you to receive information, ask questions, and to express your views and any concerns you may have about the project.
Project updates and monitoring
Project progress and monitoring results will be reported on annually and updates will be given to the community at quarterly public meetings.
Follow this project and receive updates via email.

Get involved
Send us any feedback, images, videos, news or other content about this project.
PROJECT CREATED
29 Jun 2011
Events
There are no events scheduled for this project.
YOU MAY ALSO BE INTERESTED IN: