As well as being home to around 20,000 people, Mount Maunganui is also where the Port of Tauranga and a significant industrial area are located. We receive hundreds of calls about unpleasant smells, smoke and dust from this area every year.
Find out about the work we're doing to better manage air quality in this area.
Mount Maunganui industrial area
The Mount Maunganui industrial area is made up of 270 hectares of industrial zoned land and 186 hectares of Port of Tauranga owned land. Businesses that operate from this area generally do so to make use of access to the Port of Tauranga, supporting infrastructure and complementary activities.
Tauranga City Council sets the zones and rules for land-use in the area. Bay of Plenty Regional Council is responsible for monitoring and managing land, air, and water quality.
Air quality in the Mount Maunganui industrial area is affected by traffic as well as businesses that discharge pollutants into the atmosphere. Some pollutants such as smoke, ash, soot and dust can be seen, while others, such as very fine dust, gases and odours, are invisible. The pollutants discharged into the air in this area have potential health effects if levels are elevated.
The community expects to breathe clean air in all parts of our region and industry has a responsibility to meet these expectations.
Checking the air
We use 11 air monitoring stations to check air quality in the Mount Maunganui industrial area. This includes eight new monitoring stations which were installed in November 2018. Air is sampled continuously at 11 different locations and a value is recorded for each, every ten minutes. Each station checks for different pollutants depending on what activities are happening nearby. The data will help us understand air quality within the area and address community concerns.
You can view air quality data by site or pollutant here.
Understanding what's safe
To assess air quality we measure the concentration of specific air pollutants that have known health impacts, and compare these to:
Since installing the new air monitors in 2018, we've detected exceedances for some pollutants as shown in the Table of National Environmental Standards for Air Quality below. You can read more about our air monitoring programme here.  
Below is a list of exceedances recorded for pollutants we monitor in the Mount Maunganui industrial area, according to the National Environmental Standards for Air Quality. Alternatively you can view air quality data by site or pollutant here.
Pollutant

Time covered

Safe limit

Number of exceedances allowed per year*

Exceedances recorded (µg/m3)

PM10

Daily average
(24 hour)

50 µg/m3

1

De Havilland Way

9/11/2018 – 61
11/12/2018 – 55
17/12/2018 – 62
1/02/2019 – 59
5/02/2019 – 62
5/02/2019 – 70​


Whareroa Marae

9/11/2018 – 61
11/12/2018 – 55
17/12/2018 - 62


Railway Yard South

5/02/2019 - 70
5/03/2019 - 62
27/08/2019 – 56 28/08/2019 – 51 23/09/2019 – 64 24/10/2019 - 54
4/11/2019 – 59
5/11/2019 – 67
6/11/2019 – 61
6/11/2019 – 57
13/11/2019 58
16/11/2019 – 59
24/11/2019 - 54

Sulphur dioxide

Hourly average
(1 hour)

350 µg/m3

9

Rata Street

22/1/2018 - 364
28/1/2019 - 358
28/1/2019 - 352

Sulphur dioxide

Hourly average
(1 hour)

570 µg/m3

None

 
What happens when we get an exceedance?
We receive automated updates of air quality data from the monitoring stations every hour. This data then goes through a verification process before being uploaded to our publicly accessible online Environmental Data Portal; (this verification process requires a physical calibration check of the instrumentation which can take up to four weeks).
Any exceedance of the National Environmental Standards is unacceptable and all are investigated. Depending on the pollutant, circumstances and relevant national and regional rules, our investigation into an exceedance  may include:
assessing environmental and weather conditions
investigating particles using a Scanning Electron Microscope
reviewing camera footage and completing site checks
reviewing industry records
meeting with possible polluters.
Analysing data and producing conclusive evidence is often difficult as a number of pollution sources and weather conditions may contribute to any one exceedance. Because of this, it can take many weeks or even months to complete an investigation after an exceedance is detected.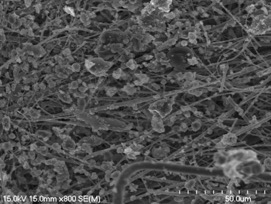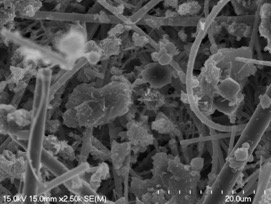 Above: Scanning Electron Microscope images showing particles collected during and exceedance event.
It can be hard to take direct enforcement action against a polluter unless we are able to gather conclusive evidence that pinpoints the source. Unlike discharges to water, discharges to air are difficult to isolate; especially in an area with so many sources of air pollution.
If a polluter can specifically  be identified, and enforcement action is deemed appropriate, there are a number of actions we can take. These include the use of abatement and infringement notices, as well as prosecution for the most serious offenders.
What do the rules say?
Our Regional Air Plan applies the national guidelines to a Bay of Plenty context by setting controls around the discharge of contaminants into our air. We've recently updated our Air Plan and the changes mean that some of those carrying out activities that were permitted under previous rules will now need to apply for resource consent and prove their activity will not negatively impact the environment. We are now working through the final appeals of this plan change.
On 28 November 2019 the Mount Maunganui Airshed was introduced. An airshed is a legally designated air quality management area.
Due to the number of PM10 exceedances recorded for this area, upon the airshed being introduced it instantly became 'polluted'. This means that Regional Council can specifically target industrial discharges in this area and introduce tighter restrictions if required.
This also means that new resource consent applications for activities wanting to discharge PM10 as part of the activity must be declined if the discharge to be allowed by the consent would be likely to increase the concentration of PM10 in the airshed by more than 2.5µg/m3 as a 24 hour mean, other than on the site itself (see regulation 17 of the National Environmental Standards for Air Quality (NESAQ) for more information). The only exception would be if we, as the consenting authority, were able to be satisfied that the applicant could offset their discharge by removing another, at least, equivalent source of PM10 from the airshed.
The extent of the new Mount Maunganui Airshed is detailed below.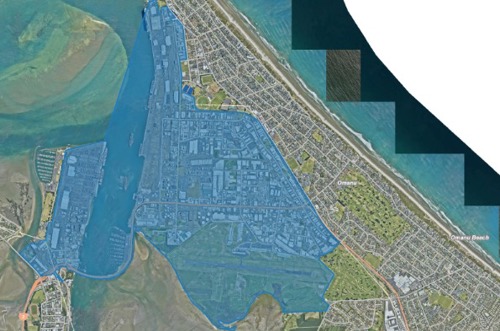 Below we explore some of the pollutants and activities in the Mount Maunganui industrial area that have known health impacts and that we're working to better understand and control.
The most significant air pollutant in New Zealand is particulate matter (inhalable particles) and we monitor for particles less than 10 microns in diameter (PM10) at many of our stations. Some particulate matter such as dust, dirt, soot, or smoke is large or dark enough to be seen with the naked eye. Other particles are so small they can only be detected using an electron microscope.
There are a number of dusty activities that operate out of the Mount Maunganui industrial area. Some of these include fertiliser plants, concrete manufacturers and dry bulk material distributors (such as those who distribute palm kernel). Wind and the way that materials are handled at these sites can sometimes lead to the release of dusty particulate into the air.
Since installing the new air monitoring stations in 2018, we've detected several PM10 exceedances that are currently under investigation. You can see a summary of the exceedances on this page within the Table of National Environmental Standards for Air Quality or a more detailed view of the monitoring data here.
Whareroa Marae
Whareroa marae, Te Kōhanga Reo o Whareroa and the Whareroa community sit along the edge of Tauranga Moana and the Mount Maunganui industrial area. The primary hapū for the marae are Ngāi Tukairangi and Ngāti Kuku of Ngāi Te Rangi whose connection to this area dates back some 150 years.
Right next door to this area are the two of the three significant industrial sulphur dioxide dischargers as well as other industries which discharge to air.
Following a number of complaints about air quality from the local community we started to work with them directly in 2015 to investigate and address their concerns. We also installed an air monitor on-site, to get a better understanding of the issue, and asked Toi te Ora Public Health to assist.
Since then we've detected exceedances of PM10 and SO2 and elevated levels of H2S. You can see a summary of the exceedances on this page within the Table of National Environmental Standards for Air Quality or a more detailed view of the monitoring data here.
To reduce the amount of particulate matter becoming airborne in the Mount Maunganui industrial area we've also worked with Port of Tauranga to get  areas sealed, carried out a dust audit in the Mount Maunganui industrial area, and have been reviewing consents to ensure controls are in place that adequately protect the environment.
De Havilland Way
One of the dustier activities that takes place in the Mount Maunganui industrial area is the transportation and distribution of dry animal food. Usually palm kernel, this product arrives by ship, is unloaded into trucks and transported to a distribution warehouse before being trucked around the North Island. Depending on wind and weather conditions, a fine inhalable dust can sometimes be released into the air during this process.
One of New Zealand's largest distribution warehouses is located on De Havilland Way, adjacent to a row of private hangers and residential apartments which sit on the same property title. People who work and live in this area are highly concerned about the health effects from the fine dust becoming air borne.  
Since 2014 we've received and responded to more than 50 dust complaints around De Havilland Way. In response, we've met with concerned residents on numerous occasions and have commissioned independent air quality monitoring on two separate occasions. We've also been working with shipping operators and stevedores to improve their handling of palm kernel.
Addressing air quality issues at a location like De Havilland Way, where residential and industrial buildings co-exist on a single title, is complex. Previous rules were focused on addressing issues 'beyond the boundary', however we've now introduced new air management rules that mean a consent is now required for large scale handling of bulk solid materials that can create dust nuisance. This will allow controls to be put in place that will reduce the risk of dust emissions in future.
In November 2018 we began our third round of air monitoring at De Havilland Way and not long after we recorded a PM10 exceedance there for the first time. This exceedance is still under investigation.    
Some businesses in the Mount Maunganui industrial area produce unpleasant smells as part of their activity. Examples of these activities include making pet food manufacture, fertiliser production, chemical processing and fuel refining.
The Regional Air Plan requires that any discharge of contaminants to air does not result in objectionable or offensive odour beyond the boundary of the subject property.
We respond to numerous odour complaints from the Mount Maunganui industrial area every year but they can be difficult to verify as they are often subjective and short lived.
Around 80,000 logs are exported through the Port of Tauranga every week. These logs primarily go to China and India, two countries which have strict biosecurity measures in place. In the case of India, where approximately 15% of our log exports go, all logs are required to be fumigated with methyl bromide. China allows fumigation using phosphine or methyl bromide (MB).
Methyl bromide is a colourless, odourless, non-flammable gas that is toxic to humans and can damage the Earth's ozone layer. Phosphine is generally used to fumigate logs when a ship is in transit between Ports, where MB is used mostly on Port.
About 220 tonnes of methyl bromide are used at the Port of Tauranga every year. Most of this is discharged to air when the fumigation process is complete.
To address the effects of this fumigant, the Environmental Protection Agency require the recapture or destruction of methyl bromide emissions at the end of fumigation from October 2020. More information on the methyl bromide 2020 deadline can be found here.
An organisation representing log exporters (STIMBR) have made an application to the Environmental Protection Authority (EPA) to reduce the required percentage of gas to be recaptured from each recapture.
In the 12 months to end of June 2018, more than 1,700 vessels berthed at the Port of Tauranga. Air discharges from ship exhausts are permitted under the Resource Management Act 1991, and regional plans cannot make rules that restrict these discharges. 
Under current legislation, there are no restrictions aimed at protecting air quality for a ship that docks at the Port. Ministry of Transport have recently publicly consulted on whether New Zealand should sign up to an international treaty which would enable us to regulate emissions harmful to public health and the environment from ships. We made a submission in support of this and are awaiting a decision.
Treaty regulations would lower the maximum sulphur content allowable in fuel from 3.5 per cent to 0.5 per cent for all vessels, from 2020. Ships visiting Port of Tauranga would be required to switch to low sulphur fuel or be fitted with exhaust cleaning systems. Ports can also install shore-based power facilities for ships to plug into (where electricity infrastructure allows). 

Get involved
Send us any feedback, images, videos, news or other content about this project.
PROJECT CREATED
22 Dec 2016
Events
There are no events scheduled for this project.
YOU MAY ALSO BE INTERESTED IN: