We're working to improve water quality across a broad range of indicators and waterways in the Bay of Plenty. Setting regional targets that contribute to national swimmability targets set by Government for specified* rivers and lakes is just part of that work.
Ministry for the Environment (MFE) has determined that 94.5 percent of the Bay of Plenty's specified rivers and 85 percent of our specified lakes are currently swimmable. Swimmability gradings are based on modelled and recorded levels of E.coli bacteria in rivers, and toxic algae (cyanobacteria) in lakes.
The MFE assessment shows that Bay of Plenty swimmability gradings are already better than the 2030 national target of 80 percent.
Bigger picture for Bay of Plenty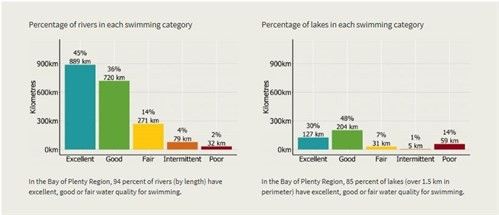 We've got lots of work already planned and underway to keep improving water quality across a range of indicators (such as nitrogen, phosphorous, turbidity and oxygen levels, as well as bacteria and algae), in both nationally specified and locally important waterways.
Achieving swimmability improvements in the waterways assessed for national targets is part of that work. We're also working with iwi and local communities to set specific limits and rules for managing water quality (including swimmability) and quantity in their particular catchments.
Regional projections
An MFE report that projects likely river swimmability improvements, based on work that's already planned or underway, was released on 29 March 2018.
The report predicts that 95.7 percent of specified Bay of Plenty rivers will be swimmable by 2030. Sixteen percent of our already swimmable rivers are expected to move from 'good' to 'excellent,' or 'fair' to 'good'.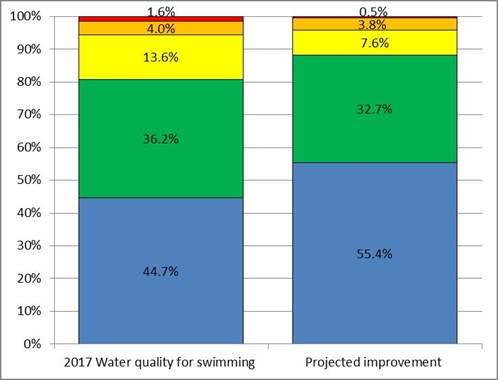 Projections for expected lake improvements have not been assessed by the MfE report. However we've been making substantial progress toward reducing the nutrients that drive algae growth in Rotorua's twelve lakes through our Rotorua Te Arawa Lakes Programme partnership. That progress is expected to continue as we keep delivering on nutrient reduction initiatives and lake action plans agreed with local communities.
Regional targets
As required by Government, draft regional targets for Bay of Plenty have been set at 95.7 percent of rivers and 85 percent of lakes swimmable by 2030. This will allow our planned work such as riparian management and lakes restoration programmes to continue, across both nationally specified and locally important waterways.
Planned wastewater and stormwater upgrades by Western Bay of Plenty and Rotorua Lakes Councils are also expected to contribute to projected swimmability improvements.
We'll also keep exploring a range of innovative new solutions to bring Lakes Ōkaro and Rotoehu up to swimmable standards. Interventions in those lakes to date have included land use change, wetland creation, weed harvesting, alum dosing, aeration treatment, riparian fencing, planting, and run-off detainment systems.
Regional swimmability targets are due to be finalised by 31 December 2018. The process for finalising Bay of Plenty's contribution to the national targets has yet to be confirmed.