Pāpāmoa Hills Cultural Heritage Regional Park, is one of the most significant cultural and archaeological landscapes in New Zealand.
The park is welcoming a rising number of visitors in recent years which is placing strain on existing facilities. The upgrade project aims to highlight the park's rich cultural history while providing increased and enhanced access for the community.  
Why is a new carpark needed?
The Regional Park has over 100,000 people per year, and this is growing at 10% year on year as the Park becomes more popular with both locals and out of town visitors. As a result the carpark is frequently at capacity during busy times. The increasing number of visitors has highlighted safety issues with access to the carpark given its close proximity to a working quarry.
Sharing the cultural story
Pāpāmoa Hills Cultural Heritage Regional Park is a culturally rich landscape, with visible evidence of their historical occupation and links to Maketu, (Mauao) Mount Maunganui and Tauranga Moana. Māori from many iwi have long understood the strategic importance of the Pāpāmoa Hills with their commanding position over the surrounding coastline.
There are 1,630 individual archaeological features recorded within the Park. Predominantly the features are terraces/tuku and platforms/papatahi, pits, middens and defensive earthworks such as ditches/maioro. The number of archaeological features present in such a small area is very unusual for New Zealand, and reflects why it is necessary to protect these sites, and also tell the story of this important cultural landscape.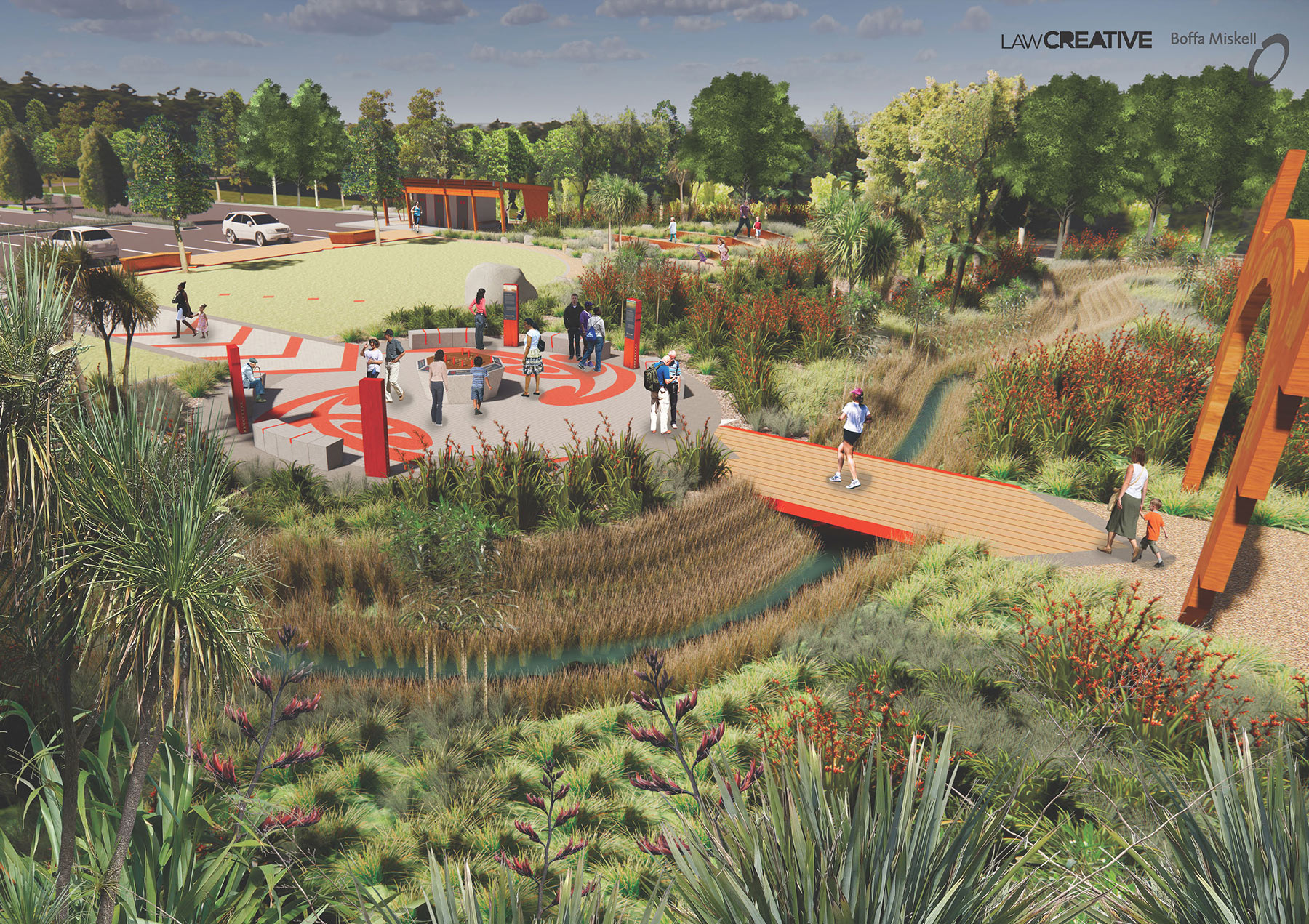 Design concept for entrance.
The new carpark and visitor space
In 2017, Regional Council staff and iwi representatives started working together to develop a concept for the new carpark and visitor gateway. The new space will include the creation of an improved entry from Poplar Lane, increased carparking capacity and improved safety for vehicle access. A new entrance way to the park which includes an interpretation area to help park users understand some of the cultural and historic context of the land they are visiting, and improved track signage will enhance the experience for visitors coming to enjoy the Regional Park.
The new carpark and visitor entry space will be the primary access to the Regional Park and will provide over 80 additional carpark spaces, and a new gateway to the Regional Park, as shown in the images below. The new carpark will be located approximately 300m to the east of the existing carpark entrance.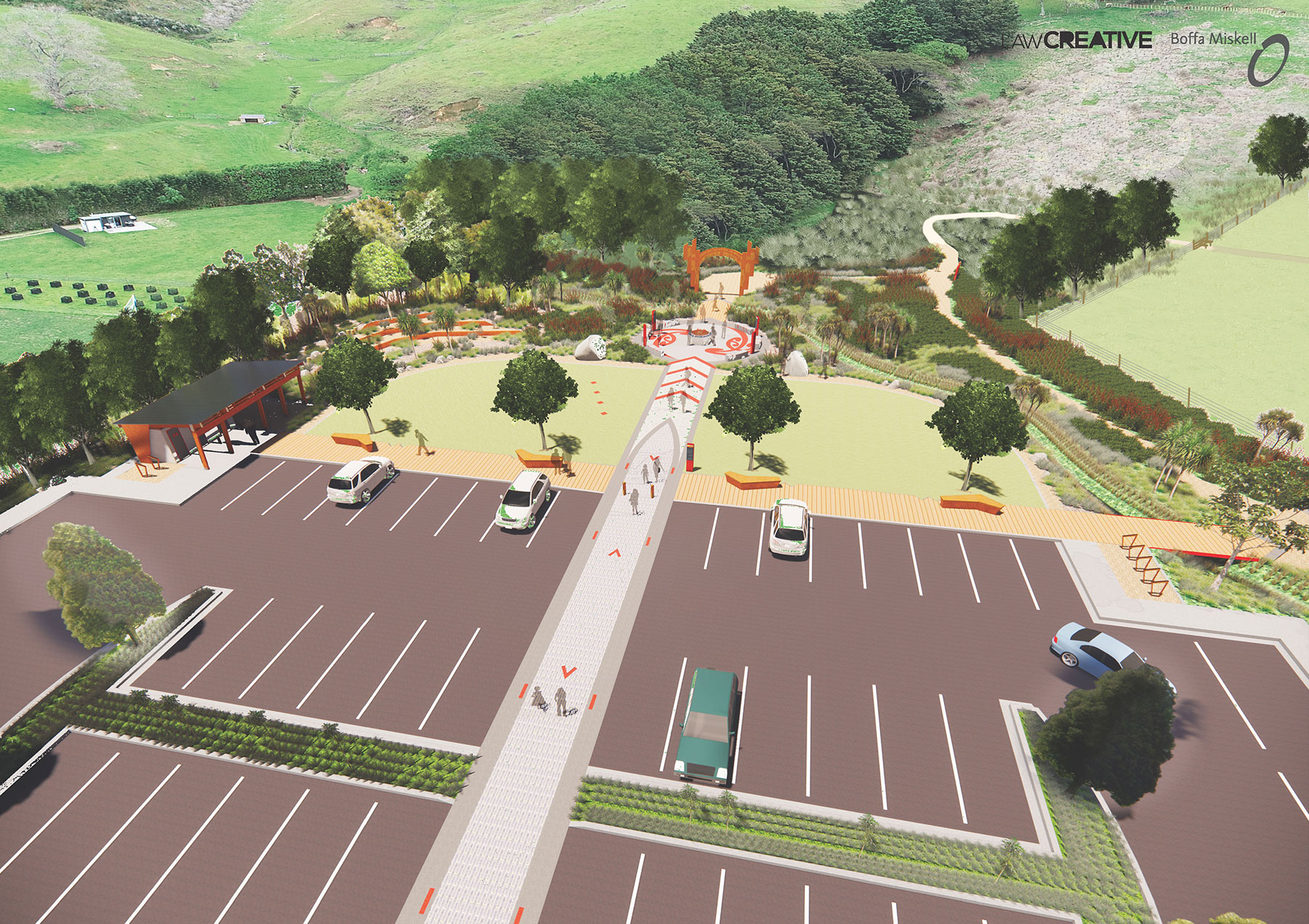 New car park design concept.
Progress to date
Acquisition of an additional 45 hectares of land – completed 2017, 2019 and 2021
Detailed design for new carpark and visitor entry space completed 2021 by Boffa Miskell and Law Creative co-designed in partnership with representatives from Waitaha, Ngā Potiki, Ngāti Pūkenga and Ngāti He
Site blessing October 2021
Construction commenced March 2022
Enabling works complete Quarter 1 2023
Next steps
Stage 2 works Quarter 1 to Quarter 2 2023
Opening of new car park and entrance planned for Spring 2023