To protect people, property and livelihoods from our region's most frequent natural hazard, the Bay of Plenty Regional Council looks after $320 million worth of flood protection assets.
These include stopbanks, floodgates and pump stations, which are part of a flood protection system designed to help manage river flows and collectively work to minimise flood risks.
Council manages flood protection systems in five major river and drainage schemes:
Kaituna Catchment Control Scheme
Waioeka-Otara Rivers Scheme
Whakatāne-Tauranga Rivers Scheme
Rangitāiki-Tarawera Rivers Scheme
Rangitāiki Drainage Scheme
A number of communal pumping schemes and minor rivers and drainage schemes complete the Bay of Plenty drainage network.
A key defence
Stopbanks are compacted earth banks built to a design limit to contain rivers and streams in flood. No matter how well designed, constructed and maintained, stopbanks are only as strong as the weakest link and that's why protecting them from damage is vital.
Stopbanks are our key defence against flooding and are Council's most significant asset in the rivers and drainage asset portfolio. Scheduled monitoring of our stopbanks involves visual inspection, physical survey, detailed computer modelling and scheme capability reviews.
Stopbanks are checked and maintained by our team of engineers and field staff. However, the best maintenance involves us all as protection of our flood systems is in everyone's interests.
Components of a typical earth stopbank

Floodway and Drainage Bylaw
The Bay of Plenty Regional Council Floodway and Drainage Bylaw applies to drains, pumping stations, defences against water, river edge protection works and floodways owned by Council. Under the bylaw it is an offence to damage stopbanks, and landowners can be held liable for any damage. Minor offences will receive written and verbal warnings, while more serious offences could face abatement notices, fines and prosecution.
The bylaw also requires an authority to be applied for by anyone intending to build or demolish any structure, undertake earthworks, or any ground penetrating work in the vicinity of a stopbank.
Conditions differ across the region, so anyone intending to carry out work near a flood defence should contact us for full details.
We are currently reviewing the Floodway and Drainage Bylaw. Visit our project page for more information.
As a landowner or grazing licensee, what are my responsibilities?
As a landowner or license holder, we rely on you to proactively manage stopbanks on your property and inform Council of any damage. We welcome any concerns or enquiries you might have.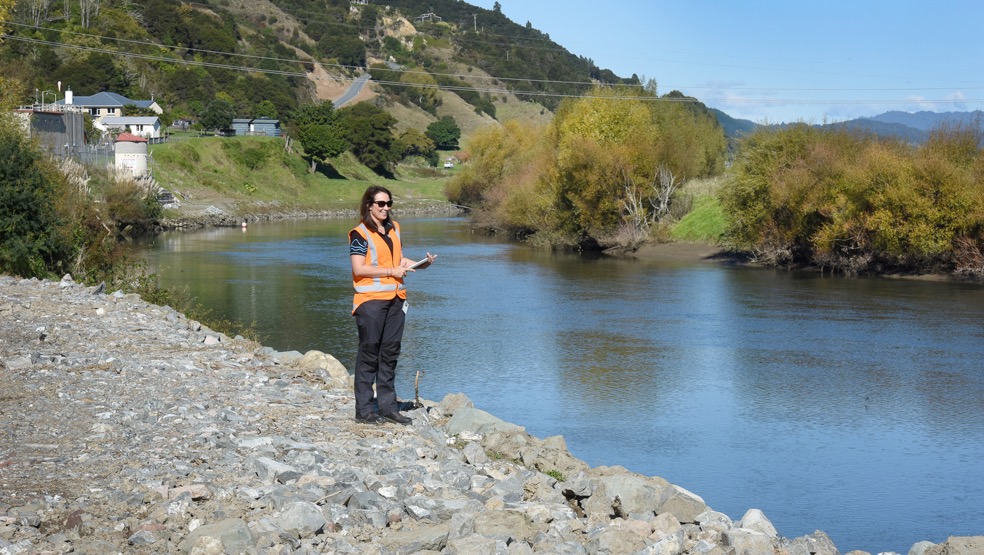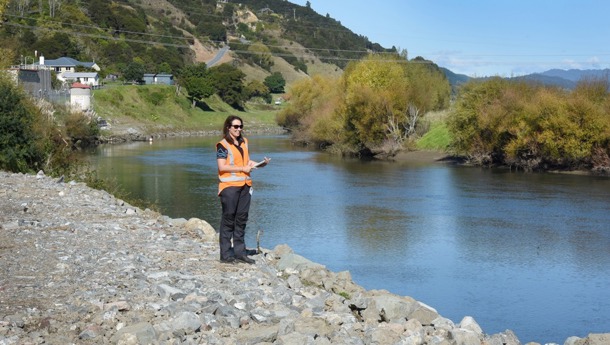 Help protect stopbanks
Use light vehicles only
Graze wisely in winter to prevent pugging
Maintain a healthy grass cover
Be aware of the Floodway and Drainage Bylaw
Control pests and noxious weeds
What can damage stopbanks?
Vehicles
Trail bikes, 4WD vehicles and tractors can cause ruts that can quickly erode stopbank berms, creating failure points in a flood.
Animals
Light grazing of certain classes of stock is permitted by grazing licence agreement. Large animals like bulls and horses, over-stocking and over-grazing can reduce grass cover and lead to tracking, stock holes and pugging, which weakens the stopbank.
Construction
Excavating or digging into the base of a stopbank can weaken its design and make it more likely to fail. Constructing buildings, especially foundations and trenching, close to a stopbank will also damage it. Please refer to the Floodway and Drainage Bylaw.
Trees and shrubs
Plantings are a major problem on stopbanks.
Plantings prevent healthy grass cover, needed to 'knit' the bank together.
The roots of trees and shrubs create a weakness in the stopbank by creating paths for water to flow through in a flood which can lead to rapid failure.
Trees can also topple during heavy wind and rain, creating a hole which water can flow through.
Shrubs and trees can prevent easy visual inspections, which staff need to carry out quickly to assess flood repairs
Tree and planting debris can damage flood pumps
Report damage
Help keep our flood systems and stopbanks safe by keeping an eye out for damage. If you see a fallen tree, badly rutted ground, or people, stock or vehicles damaging stopbanks, please report it to us.
Report damage online, or call us on 0800 884 880.