Taiohi-Taiao Youth Jam is a free three-day summit for Year 11-12 students in the Bay of Plenty and in 2019 will focus on the kaupapa of climate change.


The key outcomes of the event include:
Being able to identify key causes, impacts and risks of Climate Change and the unique challenges and opportunities the issue presents to the Bay of Plenty.
Collaborating with other rangatahi and experts in Climate Change related fields to develop key take-home messages/actions to help inform your school/community about Climate Change.
Having fun and learning in a unique environment.
Taiohi-Taiao Youth Jam is open to Year 11-13 students from all schools in the Bay of Plenty, and we do provide limited teacher release to enable staff to attend and support their students' learning.
Event details
Dates: 21-23 May 2019
Location: Keswick Camp, Rotorua
Registration forms
Schools registration form

To be filled out by a teacher/staff member indicating that your school wishes to participate in this event.

Must be completed and returned by Friday 29 March.


Teacher information and registration form



This document outlines the essentials of Youth Jam (when, where, why and how!) and is also the form you will need to complete if you wish to apply for teacher release to attend the event – please note we have teacher release available for just 5 teachers, granted on a first-come, first-served basis.



Must be completed and returned by Friday 5 April.


Information for students


This outlines the purpose of Youth Jam to potential participants and tells them a little about the event and the awesome experiences they can count on having as attendees at this year's event. Feel free to share this with your colleagues, specific students you think might be interested in attending, your school newsletter, or even printed out as a poster on school noticeboards.



Student permission form

These forms need to be completed by the student with their parent/caregiver in order to register to attend the event. It includes health and safety information and it is vital that these forms are completed in full and returned to us by the due date to ensure we have correct numbers and the necessary information to make Youth Jam the awesome experience it is for those attending

Must be completed and returned by Friday 3 May.


Risk Assessment & Management Strategy (RAMS)

The RAMS form must be read by all teachers, and attending students and caregivers prior to students coming to Youth Jam. It outlines potential hazards and risks, and the measures taken (by whom) to mitigate these risks.
Benefits for students
Gaining relevant, real-world leadership skills with a key focus on raising awareness of climate change at school and in the community.
Learning about Climate Change. 
Making key connections with organisations and experts on Climate Change in the Bay of Plenty.
Meeting diverse new friends from across the region and learning in a fun, dynamic environment.
Contact us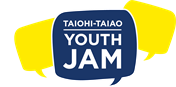 For more information on Youth Jam, please contact Natalie Ridler, Community Engagement Advisor:
Ph: 0800 884 880 extn. 7152, Mob: 021 190 7152, Email: info@boprc.govt.nz.